November (II)
Welcome again, fellow Nxters! The brisk autumnal air is upon us. Christmas might as well be here, and Thanksgiving has not even happened. As always, last week was an eventful one for the Nxt / Ardor ecosystem. Rebranding was the apparent theme of the week. In anticipation of the upcoming new year, many sites and platforms are undergoing major rebrands, some are launching anew, and others are permanently shutting down.
We are the comprehensive aggregator and distiller of all the important and relevant news associated with the Nxt / Ardor ecosystems. We appreciate you sharing your passion with ours as we compile all the events that you need to know and, likely, missed in the last week. This newsletter is accessible to all, no matter your level of familiarity with the platforms. We ooze passion for Nxt and Ardor and we have plenty of content that is aimed at higher level, more technically oriented of our readers. Regardless, sit back and consume the news that was last week!
NXT COMMUNITY
NXT AE
DEVELOPMENT
NXT IN THE MEDIA
PRICE EVOLUTION
This week's newsletter is put together by James, Jose, apenzl, and rubenbc.
---
NXT COMMUNITY
Everyone wants to know how much money was raised. With the IGNIS ICO officially over Lior Yaffe, co-founder of Jelurida, announced that Jelurida will release an official statement documenting the statistics of the ICO, including the money raised. It will be breaking news when it happens.
News from the Nxt Foundation! With the launch of Ardor around six weeks away; January first, 2018, the Nxt Foundation (soon to be ANG) announced that there will launch a dedicated Ardor forum, creatively named: ArdorForum. The forum will be hosted on the same database that the Nxt forum is on so anyone with a NxtForum account will also have an ArdorForum account. More details to come in the coming weeks.
This forum will be one of the go-to resources for community members who have questions about all things Ardor.
VanBreuk, of the Nxt Foundation, wrote:
There will be a new forum very soon.

Good news is we'll be using a parallel forum for Ardor, that will share the database with NxtForum, so everyone who has an account here will get an ArdorForum account, and gets to use both while keeping personal history.

The snapshot philosphy applied to the forum, if you want 🙂

I estimate the move will take place in a couple weeks from now.
Ardorrate.com is now 'Moonstats'
It must just be that time of the year because there is a lot of new rebranding occurring. Yet the latest is Ardorrate.com becoming Moonstats. The latest version and the reason for the rebrand are explained below.
They wrote:
As many of you might have already noticed, the new version of ardorrate.com is live as of today. With the new version we also rebranded to a new name; 'Moonstats'.

The Ardor price and historical charts are online at https://www.moonstats.com/ardr
The NXT price and historical charts are online at https://www.moonstats.com/nxt

A few new features of Moonstats.com:
– Support for multiple fiat currencies
– Price spread in charts
– Several technical and speed optimizations
– Brand spanking new design
– Available for all big crypto currencies
Chinese Community – News Updates
#Ardor #blockchain vs $IOTA in #Chinese: https://t.co/GRaBDs86SH
Original English article: https://t.co/FzfUPmFKGj#IoT #Crypto #fintech $NXT $ARDR pic.twitter.com/4190ar7DFg

— NXTER Magazine (@Nxter_org) November 9, 2017
Last weeks newsletter has been translated into Chinese. Some content has been trimmed from the original version.
fz1128
Chinese supporters can continue to visit the Chinese version of Nxter.org.
https://www.nxter.org/zh-hans/
Also, fz1128 has been uploading Nxt/Ardor videos to the Chinese video site Tencent video, and he contacted the new https://www.zb.com and asked them to add NXT.
This new exchange, reply to me and let me to submit detailed information about NXT and team information of Jelurida.
Our deepest thanks and respect goes to fz1128, may more Nxters follow in his footsteps and do their part. Ain't that the spirit?
Important Reminder About myNXT Wallet
Users of myNXT Wallet received an email from VanBreuk last week. It was a reminder that the service will be terminated at the end of the year. The ongoing popularity of the NRS light client has doomed this third-party wallet. The service will remain operational as normal until November 30th. Users have until December 31st to migrate their assets to a new wallet.
VanBreuk wrote:
Dear myNXT wallet user,

Due to the wide usage of the official Nxt light client feature (https://nxtplatform.org/download) and the Jelurida public node (https://nxt.jelurida.com), the lack of manpower for development and support, and no clear path to profitability, myNXT has closed new user registrations and will phase out the MyNxt web wallet feature by the end of 2017.

You can confirm this announcement in the login page of the myNXT web wallet, at https://wallet.mynxt.info

You will be able to operate the myNXT wallet normally until November 30, 2017, and will be able to export the Nxt accounts in your web wallet until December 31, 2017.

For instructions about how to continue using your Nxt accounts outside of the MyNxt wallet, see https://wallet.mynxt.info/faq.php
If after reading you still have any doubts, please do not reply to this email. You can ask in our NxtForum board, https://nxtforum.org/mynxt-info

REMEMBER THAT MYNXT WILL NEVER ASK YOU FOR YOUR LOGIN PASSWORD OR YOUR MASTER PASSWORD. DO NOT SHARE THEM WITH ANYONE!

So it is VERY IMPORTANT that you, if you still have NXT, assets or currencies in your myNXT wallet accounts, take action before December 31. myNXT cannot access the contents of user accounts, so any contents in accounts that have not been exported by the end of the year will be lost.

We want to give a big thank you for your support, and we hope to continue to see you as both Nxt and ARDOR move forward!
Nxter Meetup with Riker in Amsterdam
Lior Yaffe was very busy last week in Amsterdam. Also known by his alias, Riker, he interviewed candidates for Jelurida and attended a Nxter Meetup.
Riker wrote:
Folks, haven't forgot about you, busy days in #amsterdam working to structure Jelurida as a solid company for years to come, interviewing employees, working on several new initiatives. Come join me tomorrow.

— Lior Yaffe (@lioryaffe) November 9, 2017
Regarding a meetup. Would you like to gather at 19:00 at my hotel Hampton By Hilton Amsterdam Arena Boulevard and find a place nearby or does anyone has a better recommendation (https://www.google.com/maps?hl=en&q=Hampton+by+Hilton+Amsterdam+/+Arena+Boulevard,+Hoekenrode+1,+1102+BR+Amsterdam-Zuidoost,+Netherlands&source=calendar)
zuqka – Who is the guy next to Thomas?
farl4bit – @mantas779 is left
@Almonte Showing Ardor's Potential in Business
Last week Almonte was in Barcelona. He promised to document his experience in great depth and he delivered. He wrote about the cooperation between Ardor and Bankinter. Many fintech institutions, notably banks, are very interested in the security provided by the blockchain. Interesting read, link below.
As promised, this is article where Bankinter and Ardor walk together https://www.linkedin.com/pulse/bankinter-interest-blockchain-technology-alberto-fernandez

"Once we covered the basis, the most interesting part began: "Blockchain for businesses". Here we made a hands-on explanation about the most important Proof of Stake blockchain out there: The Ardor platform to be released in production next January.

As the main principle of this 2 hours introduction was to extract use cases, the most convenient next step is moving forward to application building? Fancy a use case competition?"
Travin Keith – Bridging the Gap -"A Digital Initiative Steered by the Blockchain Revolution"
Last week Travin Keith attended a conference in Hamburg entitled "A Digital Initiative Steered by the Blockchain Revolution." Travin attended as an eminent expert in the field, among many others at the Deutsche Bank AG sponsored event.
Pics from Tokyo Blockchain & Cryptocurrency Conference
In the last newsletter of October, we introduced this meetup. Travin attended as the Nxt / Ardor expert. The pictures below document the awesomeness of the event!
If you're at the Blockchain and Cryptocurrency Conference in #Tokyo, make sure to drop by the booth of the #Ardor and #Nxt Group pic.twitter.com/ajqFl8mz9s

— Ardor Platform (@ArdorPlatform) November 10, 2017
Thanks to the 2000 attendees at the #Blockchain and #Cryptocurrency Conference in Tokyo for listening to my presentation about the #Ardor and #Nxt Group and these technologies developed by @Jelurida. pic.twitter.com/oF4ufp0AjV

— Travin Keith (@TravinKeith) November 11, 2017
Come by the #Ardor and #Nxt Group table at the #Blockchain and #Cryptocurrency Conference in #Tokyo and speak with me (EN) and @wataryoichi (JP) about $NXT and $ARDR. pic.twitter.com/SCqcnicULk

— Travin Keith (@TravinKeith) November 11, 2017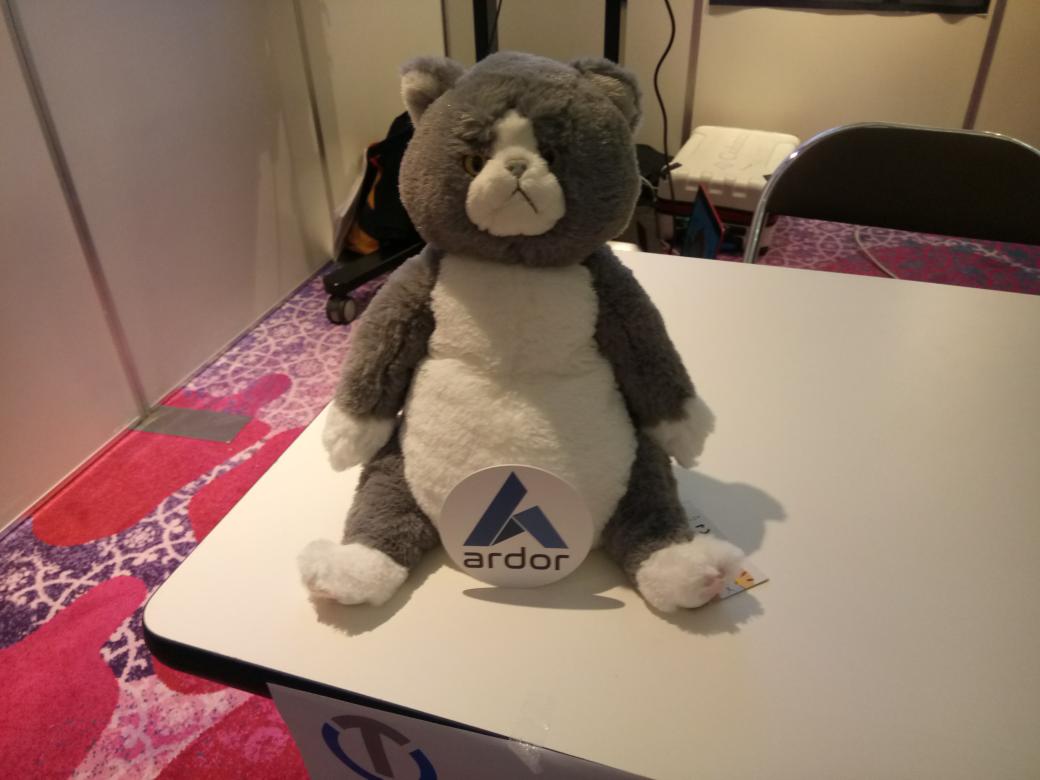 All about NXT:
NXT AE
Loading up some @BITMAINtech D3 antminers for the #Janus office. The deployment will occur soon. More deliveries this month. $JNSHash $JNS pic.twitter.com/uWpqXR73dA

— Luis_Batista (@FloatingLamps) November 6, 2017
FYI, when the #Ardor platform launches, all your $JNS tokens will be migrated to it on launch. @Janus_Token on #Nxt will be temporarily frozen during the snapshot. https://t.co/1xwRWhNDBg #mining #investmentopportunity $JNSHash pic.twitter.com/Kdlle1uNqY

— Luis_Batista (@FloatingLamps) November 8, 2017
The mining farm business of Janus continues to grow as they continue to produce equipment for the upcoming launch of JNSHash. They are looking at novel ways to add value to their tokens.
Our medium-sized mining operation just added several more rigs for Bitcoin Gold, those who own more than 100k Janus tokens will end up receiving a nice chunk of early mining rewards as our way of thanking everyone. Stay tuned for more!

–The Janusproject Team
Join the "Janus Token" YouTube Channel
[NXTBridgeAssetInfo id=4348103880042995903]
[NXTBridgeAssetStock id=4348103880042995903]
You can find a list of all paid dividends here. Also, follow the Janus news on https://nxter.org/janus, and Janus Twitter.
Big news from Adel – they announced a possible move of the ADL token from the Nxt platform to the Ethereum one. This is a big deal and will require a community vote. No timetables were proposed for this move but it is a big announcement. This is not a sign of weakness or lack of faith in the Nxt / Ardor ecosystem, but a diversification that hopes to capitalize on current trends in the blockchain world. There is no need to move your assets to a new wallet, the NXT-backed ADL will live on but they anticipate, we do not know why, that the Ethereum-backed ADE token would be worth more. Security is a known issue with the Ethereum platform and it is not as robust or as mature as the Nxt platform. Our view is that they are unnecessarily creating a new token that will fail to distinguish itself from the other tokens out there. Time will tell.
They wrote:
BIG Announcement ▲ Adel Proposes moving $ADL to Ethereum
Today we are announcing a proposed plan to move the ADL coin from the Nxt platform to Ethereum. This will require a vote by the community members, and if successful, will mean that Adel will create an asset on the Ethereum blockchain and provide a 1:1 creation of an ERC20 compliant asset. The reason for this proposal is the enable this new Adel Ethereum coin to trade on a wider range of exchanges, increase trading volume, and raise the profile of Adel as a blockchain agnostic incubator. Adel still plans to create a child chain on Ardor for the Adelshare (ADS) token in Q1'18.

Gabriel Dusil:
Q. When will the vote commence? Do you plan to run the second stage ico?

A. There will not be another ico. Adel stakeholders will have the option to keep their ADL or exchange them for ADE.

Q. What will happen with my adel coins, which are on the NXT wallet?

A. Your ADL will live on and you can keep them or exchange them for ADE (AdelEther). We anticipate that the ADE coin will have more options to trade on many more exchanges.

Q. What does this mean for Adel & Nxt?

A. Adel will continue to utilize the advantages of the Nxt blockchain. For example NXT will be utilized for the planned ADS (Adelshares) profit participation token. We also highlight the value of being a blockchain agnostic incubator.

Q. What is the timeline for the vote to move to ethereum?

A. The details of this proposal needs to be discussed with the community, and our legal teams so that this new ADE asset is created correctly. So there is no timeframe set for the vote at the moment. But we want to proceed with a vote as soon as possible, and practical.

Q. Will there be two coins in Adel: ADL & ADE?

A. Yes, both coins will exist in the ecosystem and serve as a transaction currency for members. This is the most practical scenario because it is unrealistic to expect that 100% of ADLs will be exchanged for ADE.

Q. Does this announcement mean that Adel is abandoning the Nxt blockchain?

A. No. We continue to support Nxt, and their robust features. Both ADL will reside as an asset on the Nxt blockchain. ADS will be an asset on the Ardor blockchain as a child chain. In fact we feel that the creation of Adel's ADE coin may even help to raise the profile of Nxt, within the Ethereum community. We don't want to propogate an "Us vs. Them" scenario, as often seems to play out between blockchains. Adel is blockchain agnostic, and we believe that there are much wider implications to blockchain's positive impact on society and humanity.

Adel's first incubated project will be iFin.io.

[NXTBridgeAssetInfo id=17477397104276156702]

[NXTBridgeAssetStock id=17477397104276156702]
Bitswift looked into creating a unique rewards/credit system for their Bitswift.Shop store. This would happen after they get their foundation on Ardor, which means it will likely occur in early Q1 next year. They look to accept your crypto tokens in exchange for goods in their store.
They wrote:
Our tokens will be integrated into our shop after we get our foundation straight into Ardor. We are looking at a rewards / credit system, that issues credits to the users on checkout for x% of the cart value. I think to gain some traction and be competitive in this online store business we really have to change the game. We need to start operating on credits rather than debts.
bitswiftbro
give us your crypto, and we will give you gadgets … fair trade

We have pushed a bunch of new products to the shop, check it out if you have not in the last week or so. Categories are becoming nice and populated. We need to get some tablets and digital cameras on there. bitswift.shop – now accepting Nxt and Ardor tokens.

Just signed up with a large video game related distributor. Expect Playstation and Nintendo coming to Bitswift.shop. By the way, if anyone here plays overwatch.. I challenge you. I am prepared to own you in OW. Send me a PM
https://www.facebook.com/bitswifttech/
If you use FB we would appreciate a like and follow. FB is pretty strong when it comes to marketing. So says our marketing guy. A community of non-crypto nerds is growing over there, so that's good.

Bitswift – Economy, Tech, Shop. Welcome to Bitswift Ecosystem.
[NXTBridgeAssetInfo id=12034575542068240440]
[NXTBridgeAssetStock id=12034575542068240440]
Important Reminder About MGW
Multigateway announced, across many platforms, that users need to migrate their superBTC/superBTCD assets to a different wallet on a different platform by December 31st, 2017. You have until the end of the year to move them. Any unmoved assets will be absorbed by MGW and considered a donation.
They wrote:
IMPORTANT REMINDER for holders of superBTC / superBTCD in the Nxt Asset Exchange

As announced in the Multigateway website, in the NxtForum support thread and in blockchain message to all asset holders above a minimum, *December 31st 2017* is the deadline to withdraw Multigateway assets to external wallets.

Any assets that are not redeemed by December 31st 2017 will be considered a donation to the service.

Withdraws can be requested in the usual way, either with the (deprecated) SuperNET Lite wallet, or sending the assets to the MGW account, NXT-8RQH-HFUP-3AJ9-E2DB9, including a permanent message with the external BTC/BTCD address where the coins should be sent.

The BTC MGW servers went offline months ago, so BTC redeems are processed manually and take a bit longer. BTCD MGW servers will still work until the end of December, so withdrawal times are between 10-15 Nxt blocks. Remember that the BTCD > KMD swap process is still ongoing !
— For any doubts, contact @vanbreuk in this slack —
News about obtaining a Komodo address without running a client!
As announced, holders of jl777's assets on the Nxt blockchain must move their assets. If they don't, the assets will be considered a donation.
They wrote:
VanBreuk:
I had overlooked the Komodo Paper Wallet Generator in the first post, for whoever only wants the obtain a Komodo address without running a client.
https://github.com/SuperNETorg/KomodoPaperWalletGenerator 
https://nxtforum.org/unity/supernet-assets-nxt-ae-gt-komodo-migration
New Child Chain? Action Coin Network
Exciting news about a new child chain: The Action token (ACTN) on the NXT Asset Exchange (AE).
In their own words:
ACTN (an asset issued on the NXT Asset Exchange) represents the amount of "Action" each account will receive in the future Action blockchain.

We're building an online community of people that love to participate in new and interesting activities.  We have a rewards program that encourages social interaction in exchange for Action (ACTN) and we're currently working on a related business directory, as well as Android and IOS apps.  Action may be redeemed locally for a limited number of special offer vouchers (deals) and we're currently talking to nearly 2,000 businesses across Canada in an effort to bring even more special offers to the table.  Action will also be required by vendors, to obtain network advertising services over the coming months and years.
ACTN says on bitcointalk

"I did originally look at Ethereum (6 months ago), but I found their platform to be buggy, expensive and slow. Not yet as robust or mature as the NXT/Ardor platform."

"March 1st is the planned token distribution date. That will give us time to integrate with the Ardor Platform (launching January 1st), if approved as a child chain, or to proceed with a backup solution (such as Waves, or..?).

The referral program will go for as long as there are bounties to distribute, but the Action payouts will be reduced over time (after March 1st).

It is currently based on the NXT platform, but we're hoping to move to Ardor when it's launched. Unfortunately it's not yet clear if that will be possible, as communications with their team have indicated that only select child chains will be permitted."
White Paper Published – Download in PDF format here 
Asset: 13483660838603398727
Quantity: 10 Billion
Issuer: NXT-5F6V-G8RU-ZGV6-7XAXU
Wallet: https://actioncoin.io
YouTube: https://youtu.be/FvJEXyuALCQ
Team: https://actioncoin.io/team/
Rewards: https://actionrewards.net
Twitter: https://twitter.com/actioncoin
Bounties: https://bitcointalk.org/index.php?topic=2169616
DEVELOPMENT
Ardor – v2.0.4e Proof-of-Funds
Try #Ardor testnet 2.0.4e, submit different transaction and enjoy its great functionality! Help us identify bugs and deliver the best product! Test away! https://t.co/6CUc1QL1gX$NXT $ARDR $IGNIS #Nxt #blockchain #crypto #innovation #fintech

— Jelurida (@Jelurida) November 8, 2017
A user asked about the amount of Bitswift tokens that will be allotted per a given balance of IGNIS tokens.
Bitswift is the latest token to become a childchain of Ardor. 10% of all Bitswift tokens issued is to be proportionally distributed amongst IGNIS holders when Ardor launches.
Here is the exchange:
Supernxt user

Hello, my IGNIS balance is 116,000 on the testnet…
Is this correct that the 10% BITSWIFT airdrop, distributed proportionately to all IGNIS holders, equals just 47 BITSWIFT then, for me?
Thanks
Jelurida responded:
The total number of Bitswift coins is 4061361.999693 and of Ignis coins is 999829588.664593 (you can see those when the snapshot data is imported). If you have 11600 Ignis, 4.7 Bitswift seems correct.

Since now balances on the Ardor testnet are based on a snapshot from the Nxt mainnet, everyone who had NXT or ARDR or JLRDA should also have testnet coins. Please try the testnet, it should be safe to send transactions because Ardor transactions cannot be re-broadcasted on the Nxt blockchain (the byte format has changed), and also the transaction replay protection is now mandatory on Ardor, each transaction must have a valid ECBlockId and ECBlockHeight parameters and those from testnet will not match on the Nxt blockchain or on the future Ardor mainnet.
btc2nxt – Monopoly Game Powered by Nxt
We love to showcase cool projects developed by members of our community and this week we showcase Monopoly, powered by the Nxt blockchain! The game is now ready to test, please follow the instructions below if you want to help.
How to Test

FSM (Finite State Machine) is new design of AT (Automated Machine). Two years past, FSM still slept in the bitbucket and didn't improve. That is why I want to develop a game or some use cases to push FSM to the real world or solve some problems of businesses. When I have been coding, I found many bugs of FSM and need to improve.

Last week, I reached the first milestone which succeeded in airdropping coins, distributing a dividend to asset holders.

Because I am not good at UI design, all tests are on HTTP and offline. Actually, I use Nxt1.3.5 NRS, and sometimes the 1.3.5 UI too.
Follow the instructions in this thread to help with testing and play the game. You can read more about the game here.
Remember all the things you forgot? No, you forgot them? That sucks, but we are here to help, partly. In case you forgot the distinction between ETH and NXT or forgot (or do not know) the distinction between NXT and ARDR, we have a short and succinct Tweet for you!
Major difference b/w $eth vs $nxt & $ardr

NXT Block-chain always stood for integrity…!! https://t.co/o1IdB4rxbK

— krishna (@saikrishnadasri) November 7, 2017
Here it is, from apenzl:
We've run smart contracts in production for 4 years and have never lost any investor's funds in a hack.

Only centralised exchanges have been hacked because of their bad security. Nxters have created the basis for the shift to a global decentralised economy system, with Ardor, the first scalable, well-tested, smart transaction-enabled blockchain platform for businesses and everyone. Did I mention it's energy efficient? Begin using the API.
Migrating an existing application which relies on the NXT APIs to Ardor is a relatively simple task > see nxtwiki.org.
NXT IN THE MEDIA
Lior Yaffe in Medium –  Blockchain as a Service
Large companies like Microsoft, IBM, and Oracle are promoting Blockchain-as-a-Service (BaaS) options for customers. Ardor core developer Lior Yaffe gives his two cents about this. Long story short, little to no value is added by most of these companies when you can, for free, build and test your own scalable blockchain on extent platforms.
Thanks for the heads up Lior!
We hear more and more recently about "Blockchain as a Service" or "BAAS" solutions from large corporations such as Microsoft, IBM and Oracle to name a few. But what do they really mean? I decided to investigate.

….
PeculiarMonkeys – Ardor (ARDR) Platform Review: BlockChain 101
A nice and informative piece about the Ardor platform. A good place to start if you are brand new and have no idea what Ardor is, how it works, or who is behind it.
The Highlights of the Ardor Review includes:

* Ardor a brief Introduction
* The Ardor Team
* Ardor Marketing Strategy
* Ardor Investment Analysis

Before we begin, please understand that cryptocurrencies, in general, are high risk- high reward investments. As with any investment, please research before carefully deciding to invest. Having said this, I do believe Ardor has a bright future and could prove to be a lucrative cryptocurrency Investment.
CryptoMessiah – Just picked up a nice sack of $NXT
Just picked up a nice sack of $NXT…. should perform well with $Ignis airdrop coming up. Dumping over bc ICO over. pic.twitter.com/LzJ4MiMb28

— Ad_Infinitum (@CryptoMessiah) November 6, 2017
"Nxt at historical lows / support. Snapshot for Ignis, the first child chain of Ardor is Dec. 25th. Likely a good entry for ~2 month hodl. Nxt rallied hard for Ardor snapshot."
CryptoYoda1338 – CryptoWisdom Market Report #1
Engaged in some writing again! Current State of the #Crypto Market & Top Picks for Next Week to have an eye on:https://t.co/6Jfu8Q9cFZ$BTC $NXT $STR $DGB $SC $DOGE

— CryptoYoda (@CryptoYoda1338) November 9, 2017
What an opportunity for $NXT right in key buy zone at breakout point of previous rally. Although generally more volume is needed, it likely will increase in the very foreseeable future. Early entry is already triggered, however we want to make sure to have a very low downward risk. There are already buyers in the markets driving up the price, which will likely accelerate in the coming weeks. If you have been waiting for the opportunity to get some cheap bags of $NXT just before takeoff, that might indeed be your chance. Trendline is being attacked right here right now. If prices manage to close above we will likely see more upside traction soon. Therefore green box is suggested buy area. Have a close eye on this one, before it takes off. Would be a pity to let this opportunity go.
Entry: 755 – 1100 in buy zone of previous High
Weekly NXT/ARDR Price Evolution
The following graphic shows the NXT / Bitcoin exchange price at Poloniex over this past week:
The following graphic shows the ARDR / Bitcoin exchange price at Poloniex over this past week:
Live ARDR stats from the Nxt Blockchain Asset Exchange: