January (III)
Welcome again, fellow Nxters!
Last week a new infographic was released by the ANG that highlighted the Nxt Roadmap for early 2018, NXT was added to a new exchange, Jelurida released a fee structure document for all possible transaction types on the Ardor blockchain, a new version of Ardor was released, the weekly reminder is that you can customize your account ID's – a great feature for businesses, and much more.
We know some of our readers are frustrated with the fact that their Poloniex and Bittrex accounts are still frozen. We address this with updates from bittrex-richie, Lior Yaffe, and other community members. Your patience is appreciated in these early days, Ardor is on the cutting edge of blockchain technology and as such, it can experience unforeseen delays, as early adopting exchanges have to test everything extra thoroughly (and in this case also credit their NXT holders with IGNIS).
We welcome back our old readers and warmly welcome our new ones. The cryptosphere is a large, complex, and largely mysterious place for many people and we at Nxter are changing that. We want our readers to become experts in the Nxt / Ardor / Ignis blockchain ecosystem. Take a deep breath, lean back and learn about all the news from last week.
NXT COMMUNITY
The AE
DEVELOPMENT
NXT IN THE MEDIA
PRICE EVOLUTION
This week's newsletter is put together by James, apenzl, Jose, and rubenbc.
---
NXT COMMUNITY
Infographic by ANG – Nxt Roadmap
The ANG released an infographic about Jelurida's plans for the Nxt blockchain this year.
Their goal is to develop Nxt into the go-to resource for simple and secure ICO's. The Blockchain Creation Kit will be highlighted as a development resource and the dev team will add new Ardor features that do not rely on the parent/child chain architecture to Nxt by Q2 .
Last week NXT was added to Changenow. This exchange claims to be an easy alternative for people frustrated with the experience of crypto exchanges. Exchange NXT with over 10 other popular cryptocurrencies all while not registering an account. This is significant for Nxters who are looking for an exchange that does not harvest their personal data and charge unknown and mysterious amounts of fees.
So, we enter another week with the Ardor network up and running in perfect condition, with the launch of the AEUR Euro-pegged Ardor child chain getting closer, with businesses adopting NXT and ARDR, and… still no IGNIS and/or ARDR wallets or trading markets on Bittrex, Poloniex, UpBit, and HitBTC exchanges. No exact date has been given from them about when assets will be unfrozen and trading will be allowed.
Only a few clues indicate that the moment a lot of holders on those exchanges are waiting for is finally closing in.
From Bittrex's Slack channel, January 12:
In a Medium post, posted on the same date, Lior Yaffe (Jelurida) writes:
Bitcoin Indonesia are operating with an IGNIS/IDR pair without problems

AEX has already enabled trading and deposits of both ARDR and IGNIS (withdrawals probably next week)

Our developers answered questions from Bittrex developers until 04:25 am tonight

We are working with two new exchanges on Nxt/Ardor/Ignis integration
The social media storm from internet trolls and nervous traders has calmed down a bit, but voices are still heard
Free $ardr on bittrex @BittrexExchange #FreeArdor #ardr #NXT #nxtcoin #Ignis #Ardor #throwbacktuesday pic.twitter.com/6MWDrYk6e9

— vincent (@Z400hero) January 9, 2018
A great post on Reddit summarises the current situation quite well and so deserves a quote as well.
Saram78 wrote:
Yes it sucks to have your money locked up on the exchange.

Bittrex has handled this poorly. However the Intel security bug and Azure outage affects the ENTIRE exchange. Surely the priority must be given to that as opposed to working on a single coin. The timing is terrible. It really is. When it rains it pours. Do you know how you can prevent this in the future? Don't leave your coins on the exchanges! You've heard it a million times and finally now you can see why. The Ardor team said which exchanges would support the snapshot however they also said that the best thing to do would be to put your coins in your wallet. Keeping coins off the exchange is an important tip to becoming a max coin expert.

Poloniex: On a fork. What dumbasses. However, they did disable deposits and withdrawals for now so I can assume they are working on it. Remember that Intel bug? Yeah it was a big deal for ALL the exchanges. I also want to point out that Polo never announced any support for the snapshot and if you kept your coins on there then again, that's on you. The safest place for your coins is in your wallet, where you control the private key. (…)

Suggested reading: https://en.wikipedia.org/wiki/Fear_of_missing_out

https://www.forbes.com/sites/keldjensen/2014/10/20/why-you-miss-success-opportunities-and-dont-see-the-invisible-gorilla/#65b60a902131

Ardor is not a whitepaper. It is not just some tokens on an exchange. It is a real product.
Ardor is not yet listed on a number of big exchanges.
There has not yet been any marketing for Ardor. Once all the current fires have been put out then there will actually be something to market.
Proof of stake is going to be big. Not everyone can afford to mine coins. Everyone can afford a Raspberry Pi.
The main net just launched.
Let's hope that this week will see the release of those people's tokens, that held them on the above-mentioned exchanges. You can stop saying Nxt or Ardor is a scam though, it absolutely is not – these are technical issues being worked on by very talented engineers.
New Pair IGNIS < > BitCNY on AEX.com
AEX was the first exchange to open IGNIS < > BTC trading, and it is now the first to have added IGNIS < > BitCNY. That said – only two days after the launch of this new trading market, AEX  suspended deposit and withdrawal of ALL COINS due to optimization work on the exchange. You can still trade if you have funds on the exchange already.
They wrote, on Jan 14:
In order to continuously optimize and test the stability of the deposit and withdraw system, we will gradually open the deposit and withdraw function after the new deposit and withdraw system is launched (priority to open BTC/DOGE/LTC/ETC/ETH and so on), which takes about 3-7 days to complete.

We deeply understand that it will cause inconvenience to you in the process of renewal. So we decided to subsidize the user by holding a big incentive program after the work was done. Thank you very much! We hope that you will be more satisfied with AEX in 100 days. We have a much higher dream, hoping to become one of the Top 20 exchanges in the world when AEX is one year old.
More info: https://www.aex.com/page/news/notice/2018/0114/en_139.html
AEX is a relatively newly launched Chinese exchange, run in partnership with BTC38. On Oct 31st, 2017 the popular BTC38 exchange was, along with other Chinese crypto exchanges, forced to shut down by the Chinese Central Bank, the People's Bank of China (PBOC), as they clammed down to stop all trade of virtual currencies against the Chinese Yuan (CNY). On Nov 1, AEX.com started its operation.
AEX supports NXT, IGNIS and ARDR trading. We look forward to the launch of the new deposit and withdraw system, AEX!
New $IGNIS < > $bitCNY market @ https://t.co/bOG975IpYz https://t.co/fTXHpwovRE

— NXTER Magazine (@Nxter_org) January 12, 2018
#AEX #Exchange@adds $IGNIS to bitCNY trading.@Jelurida @Nxter_org Thanks @AEX_COM pic.twitter.com/J00mcX2TRN

— 疯子 (@xfyydfz) January 12, 2018
Infographic by ANG – How to set up an Ardor Wallet
Quick walk-through of how to download, run and log in / register a new account with the Ardor Client. Pass it around to your friends and family who are curious about how to become involved in crypto. Remember, if you had a Nxt account before the Nxt Snapshot on December 28th, 2017 then you have an Ardor wallet of the same name with the same passphrase.
Jelurida Specifies all Rates for Ardor
For those users who are confused as to what costs what on the Ardor blockchain, the below table from Jelurida highlights the costs of every possible transaction. The fees are standardized. Jelurida prides itself on being transparent and now all transaction types have an associated fee – some of which vary by size. To repeat, some transaction types, like sending encrypted messages, have standard fees per unit of space.
Jelurida wrote:
This document is a summary of the current Ardor blockchain transaction fees. Fees are determined by the transaction type, but also depend on parameters such as attachment sizes and phasing options, and are therefore not a simple constant for each transaction type.

The minimum fees are denominated in ARDOR. On each child chain, fees are paid in the native token, and it is up to the bundlers to decide what exchange rate to use when accepting native tokens from transaction senders and paying ARDOR to the block forgers.

All transactions that directly modify Ardor chain balances must be stored on the Ardor chain, and their fees are payable in ARDOR only, there is no bundling process involved for those.
Many users have not yet discovered that they have some BITSWIFT tokens! The BITSWIFT Airdrop occurred at the same time as the IGNIS, but the amount airdropped was only 10% of total coins.
Nxt accounts received 1 Bitswift token per every 2500 Ignis token. Only 3.88 Million Bitswift tokens exist. BITSWIFT is tradeable on the Ardor client's Coin Exchange, and on Bittrex, when they enable their Ardor based wallets.
Bitswift has a maintained thread on Nxtforum, make sure to follow and interact if you have Bitswift questions.
https://nxtforum.org/bitswift/
bitswiftbro 
Noticing scam Bitswift asset on Nxt ae : BITSWIFT
ID: 9984460535736205672 – be careful.
The first blockchain Meetup in Romania occurred last week and it was well attended. Ardor and Nxt were introduced after an introduction to blockchain technologies. Special thanks to longtime community member, almonte, for presenting this Meetup.
Almonte wrote:
What a nice surprise to realize how many people were interested on blockchain and particularly Ardor (The photo does not have all the attendees, apologies I forgot making it earlier).

I really appreciate the effort for the ones that came for such remote places for the meetup, I take my hat off to you all. Thanks a lot for coming, it is a community that for sure will grow up a lot

We had an introduction to the blockchain tech, explained NXT, Ardor, the APIs, discussed about the future and the potential use cases for companies.

Thanks all the attendees for coming and thanks for the Hotel Crisana Arad for sponsoring the event
The AE
New website! Janus team has updated their site @ janustoken.com.
Our remodeling of the $JNS token website is complete! New changes reflect the launch of Janus tokens on $ARDR platform from $NXT and info to current events. Check it out at https://t.co/70Y001Vr8b today!$IGNIS $NEO #Bitswift @Nxter_org @AEX_COM @IGNISguide @ArdorPlatform pic.twitter.com/n9FkL0yuP9

— Janus (@Janus_Token) January 14, 2018
Up
Janus saw a big spike last week, as someone bought all the sell orders on stocks.exchange and made the price go boom. As the unreal price serge was picked up from CMC and speculators wondered what they missed, the Janus team commented on YouTube:
This spike was funny, but there is many things this year we are ready to deliver and have a more valid reason for value. Stay well!
Scraper sites
bjorn_bb:

I will show a screenshot soon, we are close to finished anyway
cant hurt
how about later this week for that

Q: whats the business model. how you monetize scrapers?

ascendus – it will have the standard ad system on each scraper we launch and it will also have at first a credit model system that gives users incentive to create great comments to articles. So we are building an inter-site media currency for the masses around the world. Profits realized from both the ad system and this currency would be found.
Our goal this year after we roll out the first political media scraper site is to take user feedback and improve, so when we launch the other 3 sites in varying sectors of business/society, these will each improve the model over time. Our team is pushing to have 4 sites of this nature up by Q2.

Q: whats plan for mass adoption? marketing? its ardor based?

ascendus – Marketing, of course. Ardor based, Janus is.

JNSHash

Still waiting. bjorn_bb writes:

I have been pushing the new building manager for JNSHash mining farm to encourage the town to move their butt and grant us the amperage we need. So far, we are still in the waiting for town approval, this is painfully slow for me, and much harder looking at so many machines and rigs without blinking lights and deafening sound. I will continue to push to speed things up.
Asset Id on ARDOR platform: 4348103880042995903
DEVELOPMENT
Ardor Update – Version 2.0.12
Another new release of Ardor. Always update to the latest version of the Ardor client as soon as possible. Not only does this keep your account secure, it also prevents the risk of users ending up on a fork, like was the issue last week. The changelog for the latest version is below. The Ardor Android app also received the update, link below.
Change log:

Fixed setting the ecBlock parameter used when doing local signing for remote
nodes, light clients, and mobile clients.

Coin exchange totals are now trimmed according to the chain decimals.
Lior Yaffe wrote:
We added mirror download links for Ardor 2.0.12 these are supposed to be super fast. I'm getting up to 3MB/Sec when using them.
Updated Android client app
Android Mobile App https://bitbucket.org/Jelurida/ardor/downloads/ardor-client-2.0.12.apk
SHA256 d16ec77758a6b759c10e83329c60bf6accfb600a70a1e06a2be6564257747019
Weekly Reminder – Branded NXT Accounts For Your Business
Did you know you can "mine" accounts? Do you want the first four characters of your account to be something clever and unique, like ARDR or your initials? With the Secret Miner service, you can buy accounts that they mined and obtain a personalized NXT / ARDR / IGNIS account.
Remember that any NXT account passphrases open the same accounts on the Ardor platform?
Here, you have the chance to get yourself a customized account ID to use with Nxt, Ardor and on any child chain.
ArdorPortal.org – A Fast Javascript Blockchain Explorer for the Ardor Platform
A new JS blockchain explorer is being actively developed for the community by the longtime member, coretechs. The UI is very similar to Nxtportal.org but the backend is very different. The functionality of the site is not yet complete but you can look up blocks/accounts/transactions in the URL if you know the route structure.
coretechs: I've started developing a block explorer for Ardor. It has a similar look and feel to Nxtportal.org but under the hood it is a complete rewrite from the ground up. I will be adding lots of bugs and features over the next few months. https://ardorportal.org

Update: Added initial support for transactions. Features are going slow as I continue to refactor core functionality but it's getting to a much better state. There is no search yet but you can look up blocks/accounts/transactions in the URL if you copy the route structure.
Examples:
https://ardorportal.org/blocks/block/12941259523131023515
https://ardorportal.org/transactions/fullHash/fed2d88ad09e6acbc360c296a2162a6e887b2e387edd060be0196e5a88cac7fb/chain/2
Also accounts work for both numeric and RS lookups:
https://ardorportal.org/accounts/account/ARDOR-8MVA-XCVR-3JC9-2C7C3
https://ardorportal.org/accounts/account/11551286933940986965
NXT IN THE MEDIA
Lior Yaffe in Medium – Ardor Launch — Update #2
Lior published a new Medium article about the latest news regarding Ardor. He addressed the ongoing difficulties with exchanges integrating the Ardor blockchain, spoke about new changes in the latest release, and highlights community projects like Ardorgate and Ardorportal.
He wrote:
We are making good progress on all fronts
Peer Explorer is back online https://ardor.peerexplorer.com/

Block explorers https://ardorportal.org and https://ardor.tools/ continue to add features and fix problems.

Ardor world looks better than ever https://www.ardor.world/en/

I would like to personally thank the dedicated operators of these web sites who work day and night to improve them.

Then we have Ardorgate who assembled a dream team of engineers to bring the AEUR Euro peg chain online. Keep your fingers crossed.

Our business development team is now sifting through dozens of child chain requests. We are building the application process and the necessary legal framework and had several calls this week and many more in the following weeks.
Steemit – A Gate Between the EURO and Cryptocurrencies
Steemit had a piece showcasing the usefulness of Ardorgate – the service that will convert between AEUR tokens and Euros via users Mistertango accounts. When online, the Ardorgate service will make it very easy for people to enter and exit the cryptomarket with their fiat currency, eliminating the bottlenecks experienced by most with third-party crypto exchanges.
They wrote:
Yes you read it right, euro to crypto coins. Because on the Ardor blockchain there will be an unique service: Ardorgate.

With the Ardorgate service, users with a Mistertango account will be able to easily transfer and convert AEUR tokens into Euros in their Mistertango account. This means you can convert any of Ardor's child chain tokens to AEUR and cash them out as EUR with Ardorgate!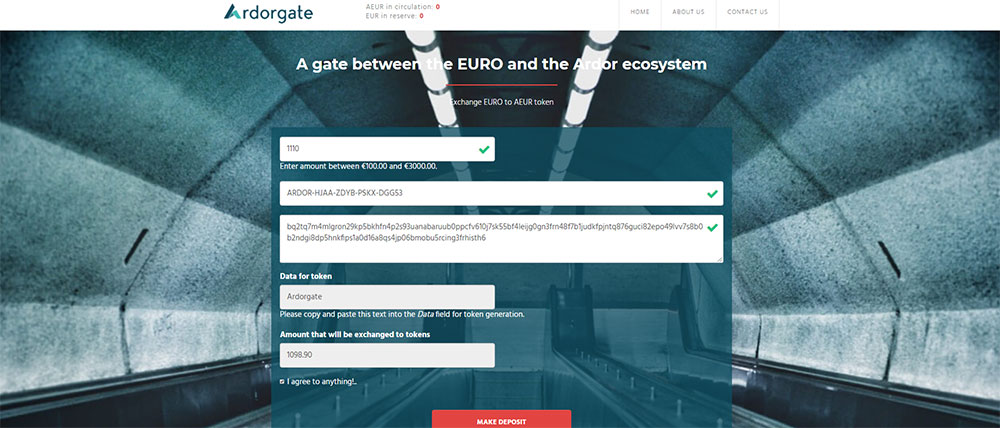 The AEUR coin of the Ardorgate is pegged to the EURO, you will be able to easily deposit EURO directly via Ardorgate and trade AE tokens (Ardor's ERC20 equivalent) globally, buy and sell Marketplace items on the blockchain, and even trade other Ardor child chain coins against the EUR-peg.
Insidermonkey – Blockchain Solutions For Secure Financial Transactions

They wrote an article about how Jelurida created a secure and ideal asset for the financial tech (fintech) sector. A good use case for the Ardor blockchain and also good coverage of this great product.
#insidermonkey published an article about #jelurida and #ardor in "Blockchain Solutions For Secure Financial Transactions" and describes our solution for blockchain bloat. https://t.co/3q3phO2cBQ

— Lior Yaffe (@lioryaffe) January 9, 2018
Jelurida's Ardor platform will be an incredible asset for entities in the financial sector because data can be stored in a decentralized manner without the threat of blockchain bloat. This will decrease the likelihood of centralized attacks in addition to providing network security.

Furthermore, the platform architecture allows for seamless child chain interaction, giving different financial firms the ability to create their own chains without cutting off important links to other firms and databases. Because the Ardor parent chain is dedicated to maintaining security for the whole network, companies don't have to worry about providing their own measures for their child chain(s). Additionally, child chains are freed up to transact, creating a streamlined and efficient operating procedure.
Theusacommerce – It's Already 40% Higher Today. Will Ardor (ARDR) Finally Hit $2.00 Again?
As of writing, yes ARDR is back over $2.oo again. This piece is noteworthy in its inclusion because it demonstrates, in a non-speculative manner – that Ardor is a strong currency with a very bright future in the Blockchain-as-a-Service (BaaS) world.
They wrote:
ARDR is a strong currency because of the technology that backs it up. This coin is the native token of a blockchain-as-a-Service (BaaS) platform. Much like the Ethereum network, the Ardor network supports new cryptocurrencies being built on the network – using the same code.

With this platform, unlike with Ethereum, the new blockchains that launch on the network are referred to as "child chains." The big draw with child chains is that new crypto coins can be created without any coding knowledge necessary. It's a sort of "out of the box and ready to use" approach to the BaaS concept.
PRICE EVOLUTION
Weekly NXT/ARDR/IGNIS Price Evolution
The following graphic shows the NXT / Bitcoin exchange price at Poloniex over this past week:
The following graphic shows the ARDR / Bitcoin exchange price at Poloniex over this past week:
The following graphic shows the IGNIS / Bitcoin exchange price at Aex over these past days:
And that is all for this week, Nxters.
Follow us on Twitter for important breaking updates during the week as they happen. Stay warm and stay informed, dear Nxters. See you back here next week!
Help us grow and help us continue to provide excellent and focused coverage on the ever-growing blockchain space by rewarding us for our efforts. Donation address: NXT-TK9J-MEKH-MUP9-HFCH2.