February (IV)
Welcome again, Nxters! We love to have imagination as we marvel at the world that is slowly being shaped and created by blockchain technology. As spring slowly comes, like the beautiful tulips and daffodils, so too does our love and appreciation grow for how our lives will be improved with the blockchain projects we know and love.
Many events occurred last week! Some highlights include Jelurida creating a faucet account to convert IGNIS/AEUR into ARDR, the ongoing competition with Jelurida in the 4YFN contest in Barcelona, updates on the Lele and Action Coin Pre-ICO/ICOs, a new Nxt asset was announced, Lior Yaffe wrote about the criteria for applying to create an Ardor child chain, and much more!
COMMUNITY
MEETUPS
The AE
DEVELOPMENT
NXT IN THE MEDIA
PRICE EVOLUTION
This week's newsletter is put together by apenzl, James, Jose, and rubenbc.
---
COMMUNITY
Jelurida to Present at 4YFN and MWC in Barcelona
Jelurida was picked as a 4YFN Awards finalist – and this week the winner will be chosen! Jelurida will present, as a semi-finalist, on Feb. 27th, with the winner announced on Feb. 28th!
Business meetings at the #4YFN18 #blockchain #enterprise #blockchainasaservice @TheCryptoWoman (at the pic) & Francisco. Looking forward to have @lioryaffe, Vanbreuk and Almonte tomorrow! @Jelurida @Ardor_Nxt_Group @ArdorPlatform @NxtCommunity @Nxter_org pic.twitter.com/nlUOk0YlMQ

— Veronica Torras (@veronicatorras) February 26, 2018
Lior wrote, in an update post on Medium:
Unlike previous events in which we presented in a startup speed dating format pitching to investors. This event looks more like a Billion $ corporations speed dating event to learn more about blockchain technology. And guess what, we are the only Blockchain startup around.

This is the first time Jelurida is getting such a huge visibility and we have a great team in place. We'll post regular updates from the event on all social channels.
Jelurida will pitch on the main stage, meet up with investors and exhibit within the innovation market at 4YFN Barcelona on Tuesday, February 27, and pitch in Mobile World Congress, Conference Innovation session, three days later, on March 1st. On Friday, March 2nd there will be a Fireside Chat with Lior Yaffe during which the community can ask questions of the core-developer of Nxt and Ardor!
The 4YFN Awards 2018 is the startup competition of the 4YFN at the Mobile World Congress Barcelona 2018 event, focused on accelerating business development and the investment in new technologies. More than 300 applications were submitted by startup companies from 20 countries for the competition, and Jelurida was chosen to be among the 10 finalists.
As a reward for being a semi-finalist, Jelurida will exhibit for free in a highlighted area of 4YFN from February 26th to 28th. Also, they will get a dedicated article published on the 4YFN website and will be included in newsletters and across social channels. Jelurida will have the opportunity to meet the international press for the promotion of the finalists' projects.
BREAKING NEWS
Jelurida just made it to the finals!
https://twitter.com/4YFN_MWC/status/968524118374211590
#Jelurida among the 5 finalists @ #4YFN18! $NXT $IGNIS $ARDR #Ardor #blockchain #Baas pic.twitter.com/PIiVEsXI8C

— NXTER Magazine (@Nxter_org) February 27, 2018
The Mobile World Congress is the most significant mobile event in the world, with Annual attendance of more than 100,000. Attendees represent more than 200 countries from across the globe. Over 2,300 exhibits are featured during four days in Barcelona from February 26th to March 1st.
Jelurida Creates Faucet Account

ARDR transactions are paid in ARDR – this is not a surprise. But, due to the nature of the IGNIS Airdrop and creation of AEUR, many people received IGNIS and AEUR without having ARDR in their account wallet, meaning that when they went to exchange IGNIS/AEUR into ARDR via the Coin Exchange, they were unable to do so as this transaction requires ARDR to execute.
In response, Jelurida created a faucet account whereby if you send 10 IGNIS tokens to the listed address you will receive 4 ARDR tokens or 2 AEUR tokens for 4 ARDR. The transactions will take a day or so to propagate but with this account, Jelurida has given users a simple way of acquiring ARDR if you only have either IGNIS or AEUR tokens in your local Ardor wallet.
Lior Yaffe wrote:
As a temporary solution to enable users to exchange child chain coins to Ardor even if they do not already own ARDR, Jelurida has setup a faucet account ARDOR-VEUQ-JZN2-22T9-4QKWV
Send 10 IGNIS to this account to receive back 4 ARDR
Send 2 AEUR to receive 4 ARDR

* Might be updated in case exchange rates change significantly
** Exchanges will be performed within 24 hours
*** Don't send any other amounts or tokens to this account
The Problems are Centralized Exchanges – the Solution is Ardor
The irony of the blockchain ecosystem is that in a world built on the principle of trusting no one, we (still) live in a world where we need to trust third-party exchanges with converting our currencies.
Ardor is a welcome change as the platform has an excellent decentralized coin exchange built into the client. Pegged child chains, like AEUR, are the future! And almost TWO MONTHS after the launch of Ardor, exchanges like Poloniex and HitBTC has still not enabled ARDR and IGNIS depositing, trading and withdrawal. There is a better way!
Centralized exchanges are the problem not the solution. We have an excellent decentralized coin exchange running on the #Ardor blockchain and we invite entrepreneurs to create more pegged child chains on #ardor similar to the € pegged #AEUR

— Lior Yaffe (@lioryaffe) February 17, 2018
Thanks for the update and the promise to share more info. Noted:
1. Keep customer funds in cold storage. Done.
2. Release #$ARDR. Not done.

— NXTER Magazine (@Nxter_org) February 23, 2018
However, no one would expect traders to magically shift from centralized exchanges overnight.
Last week we covered how Jelurida will spend 100K Euros for getting ARDR / IGNIS listed on more exchanges and revisit exchanges that support NXT and ask if they can also enable trading for ARDR and IGNIS:
Based on community feedback, Jelurida has allocated a budget of €100K for the year of 2018 for exchange listing with the aim of listing our tokens on between 3 and 5 exchanges.

The exact amount paid per exchange will be decided on a case by case basis. Specifically, we will apply for the Binance Community Coin and we will revisit all exchanges which already support Nxt and make another attempt to get them to list Ardor and Ignis.
The ANG, as well as the community, applauded this step, and Elizabeth (ANG) immediately pushed a community created list of exchanges that can be targeted for listings of NXT / ARDR / IGNIS.
Elizabeth
Here is a spreadsheet called Exchanges. I have given Edit privileges to everyone who accesses with the following link. I can't work on this for awhile, but any of you may go in and build it to what we need. I will probably tweak it later and lock down access after a few days.

https://docs.google.com/spreadsheets/d/1Z-0CsFZ-dHnKfcFMD4e3YdHgbRduqRSdhcLEydxvMrk/edit?usp=sharing
Jelurida has applied for listing on Binance
After the community of Nxters took action last week and raised $100K in less than 12 hours to back an application of getting ARDR on the Binance exchange, the application form was filled and submitted by Jelurida. Take notice that submitting an application does NOT mean that ARDR will be automatically listed on Binance. The crowdfunding means that applying for the Community Coin is canceled.
Kristina wrote:
Hi, everyone, following the community's persistent request and the recent ANG initiative, Jelurida has applied for listing of Ardor on Binance.
Elizabeth, the director of the ANG, wrote:
After a successful community fund raiser sponsored by the Ardor / Nxt Group, Jelurida has applied to list Ardor on Binance Exchange.

The fund raising continues for Nxt and Ignis here:
http://www.ardornxt.group/community-funded-projects
Buy/Sell CtC Using Euro Pegged AEUR Tokens
We highlighted CtC on our Twitter profile earlier. This platform looks to become a token with which fiat currency and other cryptocurrencies can be exchanged for a universal CtC token. Last week they announced that you can already use your AEUR tokens to buy and sell CtC tokens!
You can now buy/sell CtC tokens using Euro pegged AEUR tokens.

— CTC ATM (@atm_ctc) February 24, 2018
Whitepaper and more Information.
CtC has asset ID 6066975351926729052.
Stay tuned as Nxter Magazine will look further into the CtC platform and the people behind it in the very near future.
Bitswift Child Chain Update
Bitswift updated the community about mining for CASH, their digital on / off chain currency which highlights one of the company's income models and is part of their basic income initiative.
They wrote:
You mine for CASH and you can secure your CASH into the Bitswift blockchain. CASH is an on / off chain digital currency. You can top up on CASH or Bitswift using Flexepin in this platform making it a convenient gateway from CAD -> Crypto.

This is part of our basic income platform. This platform provides the first example business use cases for our blockchain. We will be building 3 good business examples for our blockchian and showcasing them on our blockchains site when it is completed so that other businesses can use our examples as models for what they may accomplish with their apps on our chain.

Working on account sign up and verification pages along with integration with Flexepin api. Hopefully we can have this out the door within a month or so.
If you do reddit, we could use some upvotes. It would help to call some attention to Bitswift ecosystem. https://www.reddit.com/r/CryptoCurrency/comments/7zpw1l/bitswiftshop_accepting_all_types_of_common/
Bitswift has also opened a telegram chat for anyone who likes to hang out on telegram instead of slack. Link to join.
Last week the final round of the Action Coin presale ended. This new blockchain, based on Nxt, is about to go public, on March 1st, and already has some nodes up and running.  On March 1st NXT holders will be able to log in to the Action wallet to access the ACTN that was airdropped to them earlier this month.
The ACTN airdrop? Yes. It has happened already. On March 1st (not Feb 28) the Action Coin team will release a web wallet, where Nxters can collect the airdrop, and everyone with a stake over 1000 ACTN can start forging transactions on the new blockchain. https://t.co/9KRHkIC2ZK

— NXTER Magazine (@Nxter_org) February 21, 2018
Just 3 days left!https://t.co/InukrDOeii pic.twitter.com/LGikQtGrUP

— Action Coin (@actioncoin) February 22, 2018
They wrote:
TheAction Coin Platform now represents more than 650,000 users (including over 8,000 businesses) from more than 200 countries and territories.  We have 127 Brand Ambassadors representing our project in more than 50 countries.  Our Brand Ambassadors have in-depth, local knowledge of the Action Coin Platform, and they're often found hanging out on the help desk and social networks.  We are way ahead of our original growth projections and now fully expect Action Coin to be one of the most widely held digital tokens on the planet, following our token distribution event.
The Lele Project announced last week that the upcoming airdrop will occur on February 28th with a 10 IGNIS : 1 LELE token airdrop rate. IGNIS tokens stored in your ARDR wallet are automatically counted towards this airdrop. A list of support third-party exchanges will be announced ahead of time. Note that Lele is not endorsed by Jelurida.
About exchanger support #LELE airdrop. We hope the distribution can be smooth for airdrop LELE for #IGNIS holders. #Airdrop #LELE to $IGNIS https://t.co/tYnkly2jsQ

— Lelecoin (Official Media) (@Lelecoin_media) February 22, 2018
Markets that support LELE coin , #idCE and #Stocks.exchage
You can visit https://t.co/fVMA6TPkxk to detail information.$LELE #LELE

— Lelecoin (Official Media) (@Lelecoin_media) February 25, 2018
Community member, Anton, has been fine-tuning a short and awesome video presentation of Ardor. This flashy intro video highlights the main selling points of Ardor and why it is such an excellent blockchain.
MEETUPS

Fireside Chat with Lior Yaffe, Core-Developer of the Ardor and Nxt Blockchains in Barcelona on March 2nd
In Barcelona, on March 2nd Lior Yaffe will be the guest of the Ardor Nxt Blockchain Meetup. He will speak at length about the history of Nxt and how Nxt and Ardor continue to pioneer and lead the industry in implementing blockchain solutions. At the end of the section, Lior will answer questions from the community!
https://www.meetup.com/es-ES/Ardor-Nxt-Barcelona/events/248127223/?
They wrote:
This is a great opportunity to meet Lior, and learn more about the history of the Nxt blockchain, the first new blockchain after Bitcoin, and Ardor, the first working Blockchain-as-a-service model. Nxt and Ardor are pioneer technologies in their field setting standards in the blockchain sector.

This event will really be a must for anyone who is truly interested in using or knowing better the blockchain technology. It is also mandatory for those developers that are looking for a solid technology. Ardor and Nxt are built in Java and are easy to implement with its out-of-the-box features.
NFEA Autonomy Conference + Ardor/Ignis Workshop on March 20-22
At the upcoming NFEA Autonomy Conference in Norway, there will be hands-on Ardor/Nxt workshops and a hackathon for developers. Bring your own laptop.
March 20-21, The Autonomy Conference 2018, Scandic Bystranda Hotel, Kristiansand, Norway
Go to the Registration Site for the conference (in Norwegian).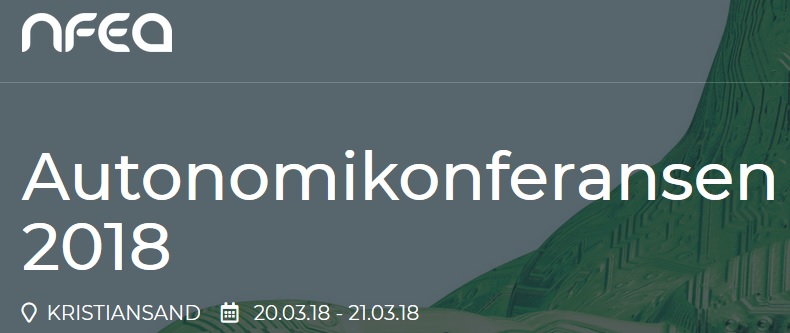 March 20:  16:45-18:00 Geir Hovland, University of Agder: Introduction to Blockchain Technologies and Practical Exercise using the NXT API (bring your own laptop)
March 21: 10:30 Lior Yaffe, Jelurida B.V: State-of-the-art within blockchain technology
March 22, Ardor Hackaton, Scandic Bystranda Hotel, Kristiansand, Norway
Go to the Registration Site for the hackaton. This event is sponsored by SFI Offshore Mechatronics and is free for the participants, but the number of seats is limited to 50.
Riker –  Developers are invited for the March 22nd hackaton https://sfi.mechatronics.no/?p=1428
Meetup Reminders (By Order)
A reminder for all Nxters, Nxt, Ardor and child chain community members – the community has been compiling the blockchain Meetup events across the ecosystem.
napdude
As soon as ardor ecosystem event dates are known, put them into cryptoCalendar to get the word out.
https://cryptocalendar.pro/
You can download the Meetup App for mobile or log in on the web to register for any of them:
The AE
Triffic – Preparing the ICO
The Triffic team announced that they have a new senior advisor for their upcoming ICO, a senior member of the American financial services company JP Morgan Chase.
coinerz wrote:
BIG NEWS REGARDING THE FORTHCOMING ICO!

Joseph Nehorai, the Managing Director of JP Morgan Chase has joined the project as a senior advisor, with a view of taking an equity stake in the company.

"Triffic is one of the very few ICO projects that actually withstands close scrutiny. I love the self-sustaining business model and have full confidence that the management team can scale the business into something truly global. I'm excited about this one."
The Frasindo crowdsale is ongoing, with Round 3 opening last week. This Indonesian project's token will be launched as an Ignis asset. The crowdsale will end in April 2018.
They wrote:
Crowdsale Round2 Close, Round3 OPEN. Please support new project build on Ignis. Legalities= frasindo.com/resources

Group Chat
https://t.me/FRASINDO
Fras Coin will be an asset on the Ignis child chain of the Ardor Platform. Details are available at https://www.frasindo.com. Fras Coin Roadmap: http://bit.ly/2C2HrCi. Fras Coin White-Paper: http://bit.ly/2sf6sun. Follow Frasindo on Twitter at @frascoin.
Last week the Janus group told us that JNSHash will launch in April.
They also announced that the processing of C-CEX claims, for those who did not upgrade to Ardor, has ended after scammers bombarded the team and abused their generosity.
— Luis_Janus (@FloatingLamps) February 21, 2018
We hope that all Janus token holders have been following the Janus channels or Nxter.org, so that they know what's going on with Janus as well as KREDS.
Janus Telegram: https://t.me/thejanusproject
Janus asset ID on the ARDOR platform: 4348103880042995903
KREDS
Here is how to claim you Kreds balance if you're a Janus holder.
Kreds roadmap Q1-Q2 public release https://t.co/Y29RJ1v4XO $KREDS pic.twitter.com/67hDHqpmmp

— KredsBlockchain (@kredsblockchain) February 24, 2018
crowne
Anyone have their masternode setup on the vps?

https://docs.google.com/document/d/1W0QHjYITciR4Osywwmr6l-ruyFmmSTvDfbnuiicjJRY/edit
Kreds Core has been updated and version 1.0.0.1 released. General bug fixes and prepare for zKREDS. #win #OSX #Android #linux
Download NOW: https://t.co/G1UOU3oEUa pic.twitter.com/ty6QpSRVKj

— KredsBlockchain (@kredsblockchain) February 23, 2018