December (III)
Welcome again, fellow Nxters! The holiday season is here and the stress of buying presents for your friends and family is upon us all. Luckily, there are some things in life that can distract you and put your mind at ease. First, go see the Star Wars: The Last Jedi – it is really good! Nxt (see what I did there!), we have the news of the week; compiled and analyzed for you. Last week AEX partnered with ANG, a new video in the Ardor Time series was released, show your love of Ardor during Ardor Days, great gift ideas, and detailed "how-to" guides for moving your NXT to the official wallet from third-party exchanges ahead of the IGNIS Airdrop – all this and more in this edition of the newsletter.
We welcome back our old readers and warmly welcome our new ones. The cryptosphere is a large, complex, and largely mysterious place for most people and we at Nxter are changing that. We want our readers to become experts in the Nxt / Ardor / Ignis blockchain community so you can make informed decisions and impress your coworkers at the upcoming holiday parties. Lean back and enjoy the important crypto news from last week!
NXT COMMUNITY
NXT AE
DEVELOPMENT
NXT IN THE MEDIA
PRICE EVOLUTION
This week's newsletter is put together by James, Jose, apenzl, and rubenbc.
---
NXT COMMUNITY
The imminent launch of Ardor has many concerned that the NXT blockchain will be made obsolete. This is patently untrue. No blockchain is a one-size-fits-all solution. The Nxt platform will be actively supported for years to come thanks to the $15 M raised last quarter in the IGNIS ICO. Ardor does not replace Nxt, it compliments it. The Nxt platform is going strong and will do so for years. The Crypto Woman, the new ANG Director, explains with a new infographic:
The Future of the $NXT #blockchain explains the fundamentals behind the #cryptocurrency so many of you are stockpiling and why it has value beyond the $IGNIS airdrop. https://t.co/jMQyVNn18z $ARDR

— Crypto Woman (@TheCryptoWoman) December 14, 2017
IGNIS Airdrop – what, where, when
A new informative article from apenzl summarizes the Airdrop and technology:
Infogram – Move your NXT from Bittrex
Nxter recommends the local wallet with official NRS client as the place to move you NXT for the upcoming Snapshot. Third party wallets may need to implement official support for the Nxt Snapshot, and if they do not you will not receive free IGNIS. Users with a Bittrex account: the following infographic informs you how to transfer your NXT to your wallet.
Move your NXT from Poloniex by Ardor Nxt Group
Likewise, here is an official guide for transferring your NXT from Poloniex to your local wallet. NXT left in a Poloniex wallet will not be eligible to receive IGNIS at the Snapshot on December 28th.
Elizabeth
And here is the much requested guide to withdrawal NXT from Poloniex. Feel free to share with hose whom it might help
Video Explaining How To Transfer NXT from Bittrex to the Official Wallet
If you still have your NXT in a Bittrex wallet after the infographic above, congrats. We really, really want everyone to receive their Holiday bonus of free IGNIS. Watch this video for a detailed, and simple explanation of how to transfer your NXT from Bittrex to the official local wallet.
Ardor Time Episode 2 – Child Chain Architecture | Security Meets Scalability

A new episode of Ardor Time, the new video series from Jelurida that is designed to promote, explain, and demystify the Ardor platform. Last week's episode explained the unique child chain architecture of Ardor and what that means for scalability purposes.
The Snapshot Book by Nxter added to @st_association Collection
Last week the Swiss Tech Association added 'Snapshot', the comprehensive Nxter source for information on the blockchain and the history of Nxt, to their collection. Plus it makes a great gift! Spread Holiday cheer and help support Nxter.org – link below.
"SNAPSHOT – Nxt, unsurpassable blockchain solutions" is a collection of articles, which, after a short introduction to the concept of blockchain technology, looks deep into Nxt – the tech and the decentralized community. It was published by Nxter.org for the 3rd anniversary of the Nxt Blockchain"
The Snapshot book by @Nxter_org is now part of the @st_association collection. Happy to have @AgavonCH involved. #Ardor #Nxt #Ignis pic.twitter.com/peC7Pj6UnM

— Travin Keith (@TravinKeith) December 13, 2017
The Ardor Nxt Group Welcomes AEX.com 
The Ardor Nxt Group #ANG welcomes https://t.co/uHUvzVqMDw #cryptocurrency exchange as a new business partner. https://t.co/HWd39N9kEW $ARDR $NXT @AEX_COM

— Ardor Nxt Group (@Ardor_Nxt_Group) December 12, 2017
The ANG announced last week that the major Chinese exchange, AEX, has partnered with them. Cooperation between the largest exchange in China and ANG is a powerful force.
The Ardor and Nxt Group (ANG) is an initiative by community members that enables members of the community to participate in the growth of the Nxt and Ardor Platform ecosystem as well as provide businesses, projects, and organizations in the blockchain ecosystem, a platform to gain wider visibility, as well as promote collaborative activities among its members.
A detailed list of ANG membership tiers and their respective benefits:
Membership

Business Membership

The business membership program is a membership program that is free until January 15, 2018, for businesses and projects that are using or are interested in using the technologies developed by Jelurida, namely Nxt and Ardor, as well as those that are involved in the ecosystem, including, but not limited to, service providers, news agencies, such as Nxter Magazine, and community tool providers. However, businesses and projects will be categorized appropriately in order for users and other businesses to have a better experience when searching through members, as well as for members to be exposed better.

After January 15, 2018, members will either need to pay a yearly fee for the Business Membership or upgrade to the Premium Business Membership. This fee will be determined during the interim period. However, some categories will either remain free or have a nominal charge, and perhaps have a different membership category. These will also be determined during the interim period.

Premier Membership

The premium business membership category is targeted to larger businesses and projects that qualify for the Business Membership, though is by no means restricted to them nor is this category the only one available for larger businesses and projects. Additional benefits, such as better positioning on the site, as well as potential special press release, will be available for these members. The fee for this category will be considerably higher than the Business Membership, and may or may not take into account the amount of employees of the business.

All Corporate Supporters of the Nxt Foundation will automatically become Premier Members and retain this benefit for one year starting January 15, 2018, regardless of their remaining months as a Corporate Supporter. Until the fee for Premier Membership has been announced, no new Corporate Supporters will be accepted at this time.

General Membership

The General Membership program will mimic the Supporter+ program, retain all its benefits, including the choice of emails, as well as other new benefits to be announced during the interim period. At the time of this announcement, no new supporters will be accepted into the program until a proper fee has been set. However, all Supporters, with or without the + attribute, will be given this membership for at least one year from January 15, 2018, depending on their initial contribution. They will also be given this status during the interim period.

Disclaimer

Membership in ANG does not entitle the Member to an official status within the Nxt Foundation.
Photos from Tokyo Meetup 2017
Last month Travin went to Japan to attend a blockchain expo. The link below summarizes his trip. A couple days later, November 13th, he attended a Meetup. The photos of it are below! Shout out to the Japanese members of the Nxt / Ardor community!
Last month, I traveled to Japan to attend the #Blockchain and Cryptocurrency Conference in Tokyo. On the Monday after, we held the largest #Nxt and #Ardor meetup with about 150 attendees and voted on the Japanese name of Ardor -> アルドー . ありがとう! pic.twitter.com/OUcu02hsJn

— Travin Keith (@TravinKeith) December 15, 2017
Nxt News – November 2017 (III): Push Yourself Because No One Else Is Going To Do It For You
http://viva-bitcoin.club/good-source-of-nxt-aldor/
Chinese Community – News Updates

A new Chinese language article has been published for the Chinese community about Ardor. There is interest in China about Ardor and after the mainnet launch, it appears that many new exchanges will list ARDR. This is great exposure for the community as China is by far the largest market for all things crypto and blockchain.
lege
I have contacted some exchanges in china , they are all interested in ardor, when the mainnet launched they will consider to list ardr

today we post an article
Crypto Woman: Let's Have Some Fun!
A great idea to share your love of Ardor is to take a picture of yourself with an Ardor t-shirt on Ardor Days, December 28th – January 1st. Share your love on social media and let's see how diverse and wonderful a community we have across the globe!
Let's have some fun! There is time to order guys and girls shirts for December 28. Let's all post a selfie from our spot in the world on December 28 wearing this or another $ARDR design – ARDOR DAY! $NXT $IGNIS Who is with me?

— Crypto Woman (@TheCryptoWoman) December 12, 2017
Elizabeth

Challenge: get and wear an Ardor tee-shirt, post a selfie and let us know where you are in the world – on Ardor Days, December 28th – January 1. Share to all you social sites
Another shout out to the community for creating this awesome graphic. Pass it around to friends and family to answer their questions about the launch of Ardor!
Veronica wrote:
Thanks to @joelq who did an amazing job with the content of this infographic together with @kristina and thanks to @Johnny Tran who did an amazing job with the graphic design! Everybody, feel free to download and share it on social media.
We passed 5,000 Followers on our Twitter
Thanks to all our followers on Twitter! We appreciate you following us and recognizing us to be the go-to source for your blockchain news and analysis! Hopefully, we reach 10,000 soon!
5412 followers @Nxter_org
251 followers @NXT_Espana
246 followers @NXT_France
NXT AE
Update from Janus about the status of their mining farm – they experienced a setback: They are using too much electricity and they are not at capacity. They have a lead on a building with a 1000 amp line. This connection will allow for future growth and will result in bigger dividends for those who have invested in them.
Bjorn wrote:
Thanks everyone for your words in both public and private messages, I've just landed and there are some very good things occuring and one thing that was bad but will be remedied.

As you all know we are in the final stage of adding machines to the mining office. At 200 amps we can safely (usually) use 80% of this amount we hit our maximum. Hours before I left for vacation I had a weird feeling based on some of the wiring that leads to the master electrical box, they felt a bit too warm, we added the final machines but because our staff watching over are still a bit new I unplugged 3 machines that performed least. I figured this could offset my intuition, however, on day 2 our new team member TJ contacted me out of country and said there was no power.

We went through our entire electrical lines/breakers and there was no issue, the issue was outside… and later discovered an older transformer blew, so while our electrical is brand new the transformer was not and we have been down for ~4.5 days now.

2 other things happened: I have sought the past month approval for reduced rate, our rate was already very low but they granted it 0.0326 kwh killowatt per hour, this is amazing, however we need to get this transformer replaced! This issue sort of pissed off the town a little, but TJ calmed them down in my absence, and they then offered potentially a new property to better suit our needs. 1000 amps. I am bringing a new investor with me to negotiate with the owner of this facility, 1000 amps would be incredible and this new private investor wishes to help us grow.

IF this all comes to play it will change the foundational revenue by a large margin. Our developers are finishing some changes we requested to the Scraper site, this is being worked on, so, while we have to suffer some losses during this down time, there sprung some big positives once everything is operational as normal and growing. I will keep you all aware the only roadblock could be the time of year; the holidays in the US make people lazy. I am not lazy but I cannot force municipal elected officials to move faster than they will so I will push but not to the extent they push back, however, it must be fixed ASAP for you, for us, for all. Until then, be safe, and hodl.
An update for the Adel community on what happens after the plans to swap ADL to Ethereum. Also, hype for their first project – iFin.
What's Next after NXT? ▲ Community Vote Wrap-up
After the success of Adel's first community vote, @R0bInI0 looks at questions about the move, and what's next in Adel's plans to swap ADL to Ethereum. https://medium.com/@R0bInI0/the-community-vote-of-the-adl-coin-b510f6f67586
BIG NEWS: iFin Expansion ▲ Adel Ethereum Project
We're excited to announce huge news on the first ever Adel project – iFin is getting bigger! The original aim of creating a Crypto loan platform has expanded – iFin.io will now include four additional financial instruments for trading, based on Ethereum smart contracts, using iFin tokens as its native currency:

• Crypto Swap • Exchange cryptocurrency and swap back in the future at the same rate
• Crypto Forward • Buy or sell offers, at a set rate, set in the future
• Crypto Binary • Bet on price movements of various cryptos using an agreed upon exchange rate
• Crypto Spot • Immediately buy or sell cryptocurrency
• Crypto Loan • Loan or borrow various cryptocurrencies based on several agreed parameters

The iFin platform will allow traders to maximize profits and liquidity, with low fees enjoyed in the crypto economy, while enjoying the benefits of a truly decentralized platform.Stay tuned for more major announcements on iFin's development coming soon.
Continued exposure for Bitswift! Also a link to their newsletter.
Bitswiftbro:
December Tech Update, Client Newsletter :
Bitswiftbro:
Special thanks to spendabit.co for featuring us: https://spendabit.co/merchants/bitswift.shop
Bitswiftbro:
It has got my mind thinking of some really cool things.
Everyone can be a sales rep if they want.
DEVELOPMENT
What are the most important things in the world? This will vary from person to person but one thing, apart from Star Wars, that should be up there for most important, "guard-it-with-your-life" importance is your Nxt account passphrase! Never, EVER, tell anyone your passphrase. This is your key to your account and all the NXT you have!
Jelurida has worked tirelessly to secure your account on the Nxt blockchain, but your passphrase is your account! Keep it safe, do not forget it. If you give out your passphrase others will be able to submit transactions from your account – if you forget your passphrase you will not be able to access your account!
We all need reminders, but this is probably THE MOST important thing regarding the Nxt blockchain! Keep it safe!
[From https://nxtwiki.org/wiki/How-To:CreateAccount] :
The most important thing to understand about your Nxt account is that you create your Nxt account using a private key in the form of a passphrase. This passphrase will generate your account address, so your passphrase is your account. Unlike other crypto currencies, there is no wallet file like wallet.dat.

The account address is needed to view your account, the passphrase is needed to submit transactions.

If you type in a different passphrase, you will open up a different account. If someone else types in your passphrase, they will access your account and get access to your NXT.

So be very careful with your passphrase!
Peter2615
https://nxtforum.org/index.php?topic=9779.msg191405#msg191405
>>>12 word passphrases are secure, I have personally audited the code and done the math and they are secure.

They use the javascript secure random number generator to product the necessary entropy, and selects words from a wordlist of 1626 different words, this gives us 1626^12 possible combinations and an entropy level of Log (1626^12)/log (2) = 128 bits of entropy
This is an arbitrarily large number, with 38 decimal places, even with one trillion guesses a second, it would take until beyond the heat death of the universe to compute the entire keyspace.
NXT IN THE MEDIA
 CryptoSlate – The Birth of Child Chains

A nice piece about Nxt, Ardor, and Ignis. A thorough read that is great for the uninitiated into our growing community!
Pre-press Release of our Ardor/Nxt/Ignis Gamejam 2018
Jelurida and ANG will co-host the Ardor/Nxt/Ignis Gamejam 2018 with the Center for Applied Game Studies at Danube University this coming August. The "game-jam" will see participants split into small teams that have 48 hours to create prototypes that act Proofs-of-Concept for gaming applications.
Alex Pfeiffer announced with Jelurida:
And I like to use this opportunity to promote the pre-pressrelease of our ardor/nxt/Ignis gamejam 2018: https://t.co/jsAc4VH3xE pic.twitter.com/Rd5zgsSgbO

— Alex Pfeiffer [LTC, NXT, AMP] (@alexpfeiffer) December 10, 2017
The goal for this particular "game jam" is to have small teams designing and developing prototypes that act as proof of concepts for the gaming market for 48 hours, resulting in 4-5 running demos. This will serve as the basis for further funding proposals in cooperation with the students, the University, Jelurida and ANG.

The event will take place between the 24th and the 26th of August 2018. Application forms will be available as from February 2018.

The Center for Applied Game Studies and Jelurida have already worked together on proposals for funding opportunities. During the MITA (Malta) 2017 game-jam, Jelurida and Alexander Pfeiffer have organized a site competition seeking gaming-related ideas on the Ardor network. As such, organizing such a creative event in Krems (Austria) is a great opportunity for both the University and Jelurida.

Alexander Pfeiffer, Head of Center for Applied Game Studies at Danube University:

I am very proud to co-host this event together with Jelurida and the ANG. We like to offer a creative atmosphere at our university for up to 30 students and developers to work on the projects within this "cryto game-jam" and gather some great keynote speakers on board; both for inspiration and as jury-members.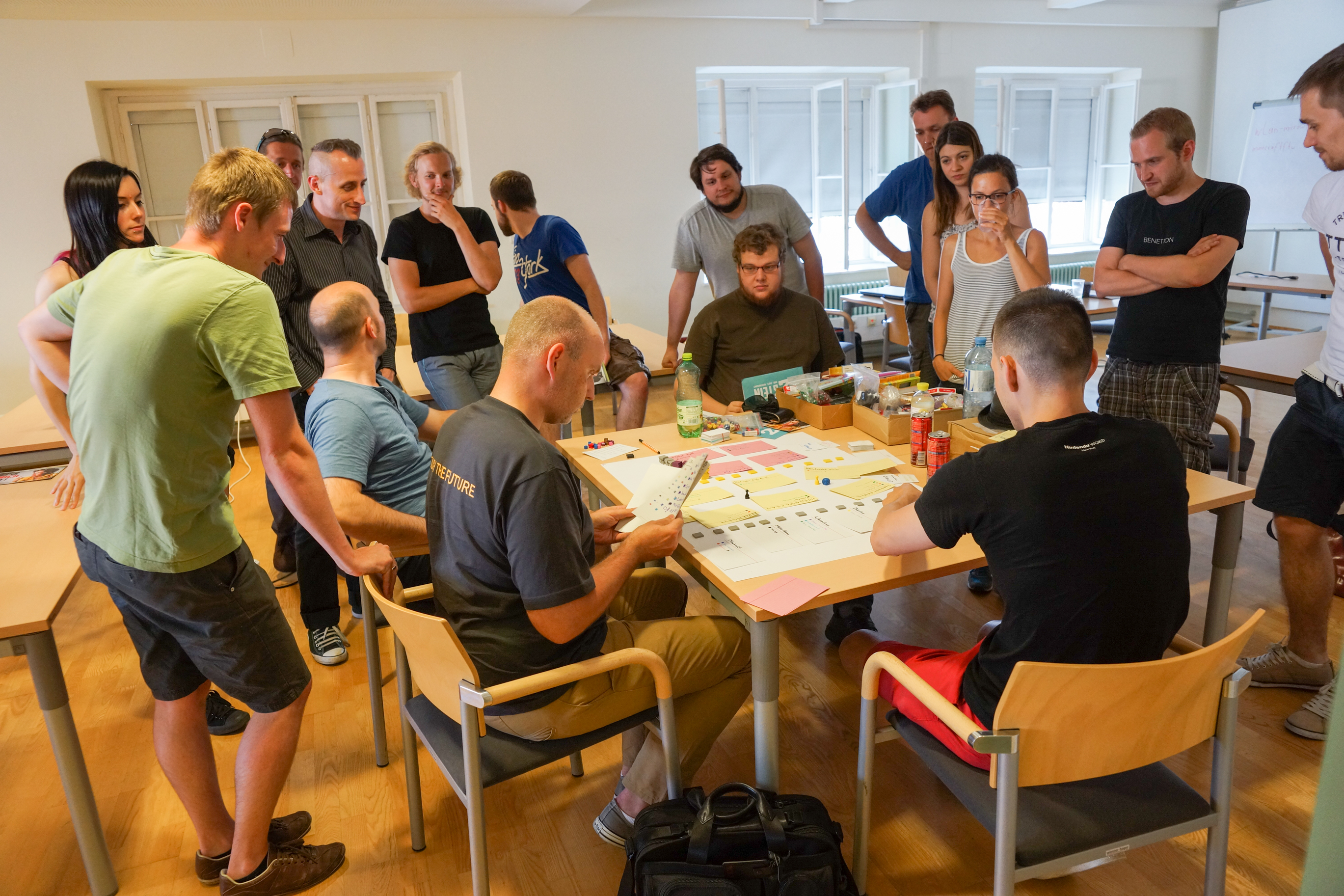 (Microsoft Hackaton at Danube University Krems – Paper Prototyping)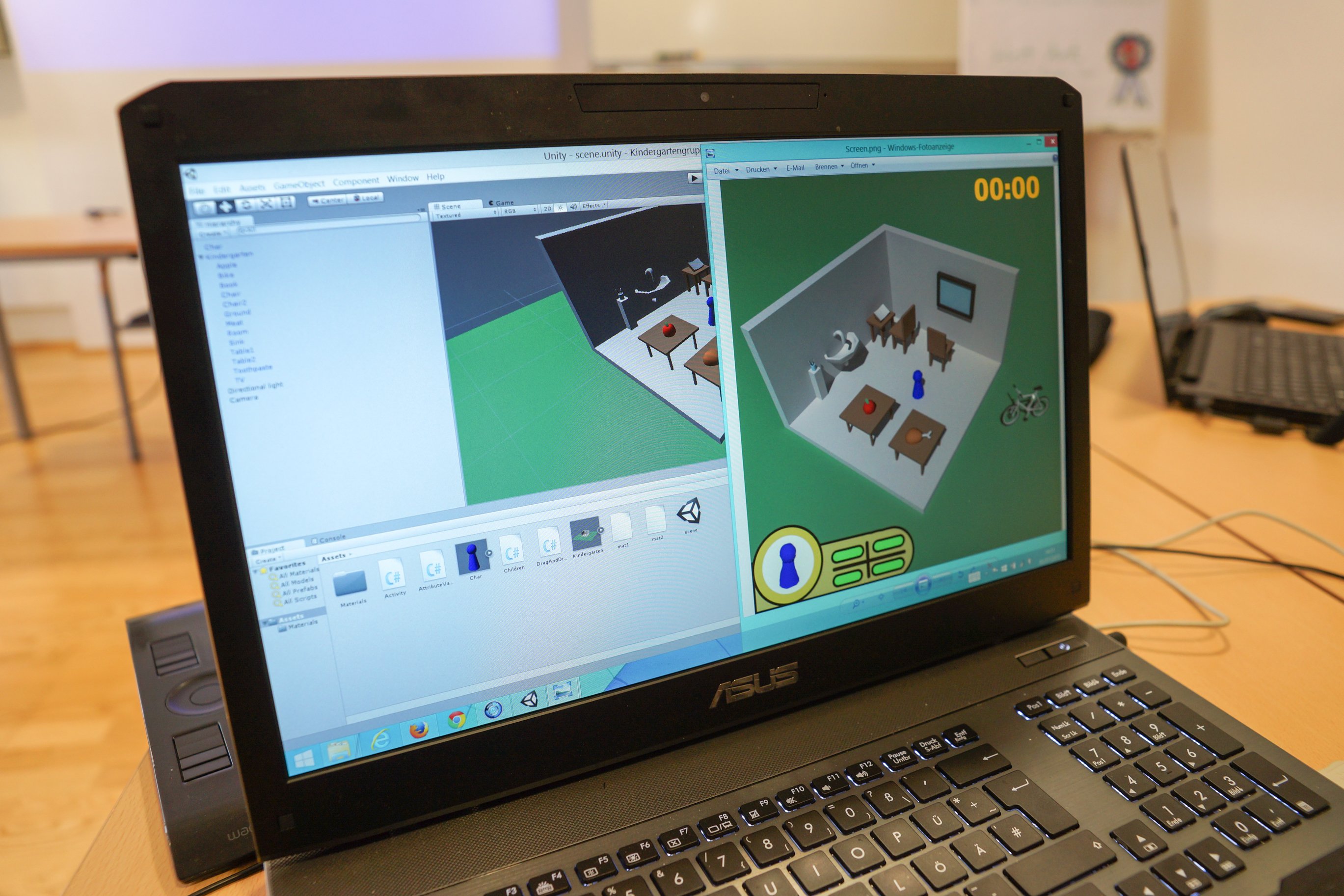 (Microsoft Hackaton at Danube University Krems – Early Stage of Programming)
Lior Yaffe in Medium – NXT-based Multi-Currency ICO
Lior, guru that he is, wrote about how you can use NXT as an ICO token registry while raising funds using multiple cryptocurrencies. This is another great reason the Nxt platform is ideal for hosting ICOs and is further proof that Nxt has a long and healthy life ahead despite the imminent launch of Ardor.
Lior wrote:
In my previous article I explained how we used the NXT blockchain as a crowdfunding platform for our IGNIS ICO and how you can reuse our technique for your own crowdfunding campaign.

However, due to price fluctuations and liquidity issues, ICO issuers will benefit from diversifying their holdings. Therefore, in this article, I'll explain how you can use NXT as ICO token registry while raising the funds using multiple crypto currencies.

Disclaimer: users buying the token using NXT will always have some priority when buying the token since other users will have to wait for their other crypto transactions to confirm first before receiving their tokens on the NXT blockchain.

Here is my proposed procedure:

Use a similar model to the IGNIS ICO with controllable currency and several price levels enforced by Exchange Offers as described in my previous article. Anyone who is familiar with NXT will be able to buy your token using the NXT wallet. However, users who want to buy using other crypto currencies will follow the process outlined below. I'll assume BTC for the purpose of this document but this technique can be used for any other currency.

…..
Cryptovest – NXT Set to Burst Ahead of IGNIS Airdrop This Month? It's a Gamble
The hype around the IGNIS Airdrop has pushed the value of NXT to record highs. Yet it could be a correction for a platform that has long been undervalued from lack of proper exposure. Cryptovest explained:
For those who don't know, NXT is a blockchain platform that has been around since 2013, and while it has promising features, it didn't really take off due to several issues, including the disappearance of its anonymous creator BCNext and lack of funding. Now with Ardor, the development team aims to get things right and build a new platform with the best features from NXT.
Ardor – ARDR Scalable Blockchain For Businesses, Govt., and Banks
BitcoinExhangeGuide wrote about Ardor, explaining and highlighting the many strengths and unique features of the platform. A good read.
They wrote:
Ardor is a major blockchain-as-a-service (BaaS) platform that helps companies to share digital currency with ease. It is actually the next generation after the Nxt platform, which is actually the first product from Jelurida. This is one of the three major BaaS options available right now, but there are many ways that it stands out.
Forex Broker News and Reviews – What are Jelurida, Ardor, and Nxt?
Forex Broker News reviewed Jelurida and their properties.
They wrote:
While ARDOR and NXT are built using the same technology, they operate in fundamentally different ways. Ardor creates and maintains a standard full-length blockchain. The features and the functions of the software are however limited to record keeping and security. On top of Ardor, there are child-chains that maintain pruned blockchains made of only the last 24 hours worth of blocks or less. These child-chains reconcile their transaction balances every once in a while with Ardor parent-chain through bundle contracts. The moment a log of the transaction data has been secured on Ardor, child-chain pruning of older blocks happens.
 Ardor in the Latest Let's Talk Bitcoin Episode
Last week, LTB mentioned Ardor! The LTB Network is a publishing platform created for content providers to present the ideas and people involved with cryptocurrency — through podcasts, articles, and discussion forums.
thewiremaster
Thank you @adamblevine for mentioning Ardor in the latest LTB episode!
Allcoinsnews – Ardor Market Report: ARDR Price Explodes Upwards
TradingView – NXT vs. Bitcoin Bullish Divergence
Weekly NXT/ARDR Price Evolution
The following graphic shows the NXT / Bitcoin exchange price at Poloniex over this past week:
The following graphic shows the ARDR / Bitcoin exchange price at Poloniex over this past week:
Live ARDR stats from the Nxt Blockchain Asset Exchange:
That is all for this week, Nxters. Make sure you find the Star Wars references in the newsly as you stay tuned next week for more coverage of the New Year's launch of Ardor, the NXT Snapshot, ongoing projects, and much more. For those who cannot wait a week to learn more, visit our site. We explain in much more detail about Jelurida and all things Nxt / Ardor / Ignis
Follow us on Twitter for important breaking updates during the week as they happen. Stay warm and stay informed, dear Nxters. See you back here next week!
Help us grow and help us continue to provide excellent and focused coverage on the ever-growing blockchain space by rewarding us for our efforts. Donation address: NXT-TK9J-MEKH-MUP9-HFCH2.
View this in: Español