July (V)
Welcome, dear Nxters and other followers!
We are all wandering through life, trying hard to put on a good face and deceive others into thinking that we have life "figured out" but these are lies we tell to our coworkers and friends. We are all wandering, but we need not be lost. Life has a way of inconveniencing plans – life is unpredictable and challenging. Do not despair if your life is not going according to what you envisioned, that is what life is – an unpredictable ride full of ups, downs, and a whole lot of bizarre and strange things. Before 2009 and Bitcoin no one had any idea about immense applications of blockchain technology, let alone what it was! Life is a series of moments and at this moment we hope you are enjoying your summer and we also hope that you desire to challenge yourself to learn the many nuances of the Nxt / Ardor systems so that the "Gospel of the blockchain" can be preached across the world.
Regardless of whether or not you planned to be here, right now, reading this, we thank you for consuming our newsletter, a labor of love for a dedicated group of individuals focused on providing you with the latest news from our international community. Last week we saw the first pictures of Jelurida's new Lugano office, a quest was created for those who desire to win free IGNIS, a great informational poster was created comparing various blockchain projects, we learned that on August 17th Lior and Jelurida hope to debut the long-anticipated and much-hyped Lightweight Contracts functionality on the Ardor testnet, news about Nxt clones, updates on the ongoing Triffic and Dominium token/coin sales, a great Ardor.World update, and a phenomenal idea for a Chrome browser extension.
You are not lost, you are being taken on a journey through the week that was, Summer style.
COMMUNITY
MEETUPS
BUSINESSES ON ARDOR
EXCHANGES
Support your Tokens

CoinPulse – You can vote for NXT/ARDR/IGNIS
Bithumb – Let your Voice be Heard
CryptalDash – Request for your Favorite Coin to be Listed
CLONES
DEVELOPMENT
IN THE MEDIA
PRICE EVOLUTION
This week's newsletter is put together by apenzl, Jose, James, and rubenbc.
---
COMMUNITY
Jelurida's Office in Lugano
The following photos provide some snapshots of the happy Jelurida team in their new office in Lugano, Switzerland!
We had a great week at our new office in Lugano with many team members at one place and lots of meeting with friends, clients and partners! #Ardor #Nxt #blockchain @lioryaffe @albefero @fsarrias pic.twitter.com/eAGEWG6ZVp

— Jelurida (@Jelurida) July 27, 2018
Jelurida is also working hard on the implementation of Lightweight Contracts and child chain pruning, which is explained in some detail in Lior Yaffe's recent status update on his Medium blog.
Our current due date for the lightweight contracts testnet release is August 17th just in time for the Blockchain Meets Purposeful Gaming Hackathon & Conference in Krems Austria, where we intend to make extensive use of these contracts. This release will be packed with additional goodies as well, but more on this in a separate article once we get closer to the release.
More about this in the Media section.
This week we branch out and are presenting not one, but a series of puzzles:
The Summer Quest
Nxter and Madfox present the Summer Quest, which will take you on a walk through different regions, cities, and countries, to find specific numbers and words. Those words combined will give you – yes, you guessed it right – access to an Ignis account. You must solve all parts of all puzzles to win the Summer Quest finale. The grand prize will be 1000 IGNIS for the first person to claim it!
Rules and pictures are here:
Walkthrough and search these areas (using Google maps) to uncover the hidden words. The words of each stage of the quest will give you access to an Ignis account with an encrypted message. Find all the words and reap the final reward.
–
50 FREE IGNIS NOW
There are still some free IGNIS to collect from last weeks puzzle, a simple crossword that requires knowledge of Nxt and Ardor's history, which is (clue!) presented to you in this timeline from the ANG. The right answers will give you access to an encrypted message in an Ignis account; which is your key to your 50 IGNIS reward. Go get it 😉
Great job ! @_ARGSS_, @Cr0wn_Gh0ul and @jtobcat! They already managed to solve the crossword from @Nxter_org and @Ardor_Nxt_Group. We have the first guys who have passed examination on $Nxt and $Ardor history! https://t.co/Aw1Oh6HJUq https://t.co/YUiIb1f402

— madfox (@madfox1234) July 26, 2018
Comparison of Blockchain Platforms
Last week mrv777 and Elizabeth showed some great work they did with help from the community – they compiled a very handy comparison of the essential details about 11 popular blockchain platforms.
mrv777 wrote:
How is it looking? https://mrv777.github.io/CryptoComparison/
Elizabeth also proudly pointed out how this is being translated into Chinese for native publication:
@Zhang has done a great job of translating the chart to Chinese and publishing it in China
区块链平台对比图 – Here is the Chinese version of the 区块链平台对比图 #Blockchain Comparison Chart in use – https://t.co/bUyO6ui9fM pic.twitter.com/aUYxcMQxo8

— Crypto Woman (@TheCryptoWoman) July 24, 2018
Chinese Community – Nxt/Ardor in WeeChat
Thanks to our great community, we have an actively run and monitored a Chinese-language ecosystem on the WeeChat chat client.
Zhang wrote:
I have been running the WeeChat public account for some time.
Blockium is a blockchain technology platform that offers P2P cryptocurrency trading. Create your portfolio, and compete against others in simulated cryptocurrency trading tournaments in real time. Last week they added ARDR, so perhaps there is a good reason for Nxters to create a portfolio there.
#cryptocurrency gamified with @Blockium_io a social trading app. Oh, look there's $ARDR! https://t.co/jLKz9a0Za9 pic.twitter.com/GyVKXqLk5o

— Crypto Woman (@TheCryptoWoman) July 26, 2018
Video – Blockchain Ardor: Client Wallet Tour of Ardor and Ignis Functions
An 11-minute video that does a good job of explaining the plethora of functionality available through the Ardor client. A good video to consume over a coffee break if you are uninitiated with Ardor's basic functionality.
This is the third video in a series of Ardor + Ignis blockchain "tutorials" by CryptoDemetrius, with pre-announced Spanish and German translations as well. Great to see you back, Demetrius, we're looking forward to the next episodes.
MEETUPS
Meetup Reminders (By Order)
ANG and the community continue to compile the blockchain Meetup events across our international ecosystem.
Hackathon / Gamejam time, August 24-26th in Austria
Learn about Purposeful Gaming on the blockchain with this upcoming workshop/hackathon in lovely Krems, Austria. How can you not be entertained when they have David Hasselhoff in their promotional tweets? This Hackathon is now only a month away.
It is #hackathon / #gamejam time. 24th to 26th of August @donau_uni @appliedgames. Pls. click on the google docs link below for further information and sign in. Come to beautiful Krems/Austria and experience #smartcontracts #ardor #ignis and #pizza https://t.co/C42dEPDvC9 pic.twitter.com/CggXYMYedn

— A. P. [#maltamoon] (@alexpfeiffer) July 2, 2018
Travin Keith will speak, and the Linux Foundation wrote on their website:
The goal of this event is to unite the disciplines of blockchain-development and game studies in a meaningful way.

At this first event of this kind we like to introduce the "Blockchain as a service platform" Ardor with its unique "Childchain Architecture" and the brand new "lightweight contracts". The participants of the hackathon will be split into two groups with the purpose to create a collector's game with an educative purpose. An example would be to build a collectible card-game about the "17th century Tulip-Mania" in Amsterdam. The winning team will get a bounty powered by Jelurida.
Travin Keith, founder of @AgavonCH will be presenting at the event Blockchain meets purposeful gaming at 10:45am on Aug 25! More: https://t.co/kYM4pH8wsm pic.twitter.com/K9moX0A7kT

— Hyperledger (@Hyperledger) July 18, 2018
Jelurida will Attend Finnovista Pitch Day Madrid, September 18th
Jelurida is one of the first startups to attend the Finnovista event at FPDMadrid in mid-September.
Jelurida and @ArdorPlatform, one of the first startups confirmed for #FPDMadrid organized by @Finnovista https://t.co/1RMXfsAD9A #blockchain #startups #competition

— Jelurida (@Jelurida) July 17, 2018
BUSINESSES ON ARDOR
Register and whitelist your Ardor account to participate!
Coinerz told us:
We reached our soft cap a few days ago and now want to address the biggest question that potential investors had which was "how can I test the app".

We got accepted to the enhanced Apple Testflight program a few days ago and we are sorting out the testing bounty program.

We have postponed part 2 of the ICO until September as we are trying to launch our public beta program.
For the whole of period 2, GPS tokens will be priced at $̶0̶.̶2̶0̶ $0.16 – a 20% discount on the regular ICO price.
ANN | Website | Pitch Deck | Whitepaper | English Telegram
Public Sale Supply: 100,000,000 GPS Tokens / Total Supply: 1,000,000,000 GPS Token
A little over two weeks, as of this writing, till the Dominium pre-ITO begins. If you want to ensure that you have access you will need to whitelist your Ardor account and go through the proper KYC/AML steps. If you do not wish to do this, or you are unable to, any unsold DOM tokens will be available to the general public, i.e. non-whitelisted accounts, three days later on August 15th.
Gudo Thijssen wrote:
Dominium Receives "A" Rating Following Audit by Top ICO List!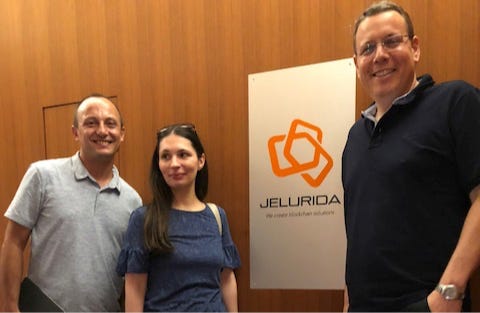 Dominium used as example of Ardor Vs Ethereum adoption https://t.co/T93ZG4cb8m pic.twitter.com/WFjfSDEDAW

— Dominium (@Dominium_me) July 27, 2018
They published this announcement in their Telegram news channel:
Dear Dominium Community. We have had a tremendous amount of reservations and as such the pre-ITO is overreserved. As we do not know whether reservations are real or not (we assume most are real of course), we have decided to disconnect the reservation form from the automated calculation logic, as some of you have noticed that the reservations are already costing €0.10 per DOM. This will go live at some stage next week and this allows people to keep reserving DOM tokens at pre-ITO prices of €0.05. Please note that you can keep making reservations now, as the €0.10 is not the real cost. Your reservation merely means you are on the whitelist and you will be informed that you can buy tokens for real before the general public. REMEMBER: the pre-ITO goes live for whitelisted people on the 14th of August at 12:00 CET and for the general public on the 15th of August at 12:00 (if any tokens are left to sell). The pre-ITO is purely treated on a first come first served basis, to make sure you are whitelisted by reserving DOM tokens and be ready on the 14th to make real time orders.
Read the article in the Media Section
Learn more: ANN | Website | Pitch Deck | English Telegram Chatroom | Telegram Announcements
EZYcount – Private Token Sale is Live
In Switzerland, where else, the EZYcount ICO is now ongoing. From the company that believes in the Token-as-a-License (TaaL) concept, designed to clearly confer ownership to various software license holders upon resale. Linked below is a Medium article with much more info about this novel application of blockchain technology.
They also published a new post on Medium giving more details about how it will work:
CEO's blog post: #TaaL (Token as a Licence) is the solution to current issues with software licenses. And it starts now, using #ARDOR. https://t.co/FMcctjl51S #blockchain #EZYcount #accounting #automation $ARDR

— EZYcount Suisse (@EZYcountsuisse) July 29, 2018
They wrote:
Token-as-a-License or TaaL is the type of token EZYcount use in its token sale…
Laws in the US and in Europe guarantee the right to resell a software license when you bought it. As the buyer, you owned it and you have the right to resell it. Current license business model makes this very complicated or even impossible…
At EZYcount, we created lifelong software licenses and tokenized them. You can find the asset on the Ardor blockchain (on the child chain Ignis) here Asset ID: 14004020396567362190

When someone purchases the license, we transfer the tokens to their wallet. They have a clear proof of ownership of the license which only they can manage. Moreover, they can transfer, give, sell the tokens or even buy more tokens. All these processes are secured by the blockchain!
The asset even gives a platform the asset exchange, where owners can buy and sell the tokens.

As software creators, this is fantastic. Without having to code a line, we can offer all these valuable properties to our software licenses.
PRIVATE TOKEN SALE IS LIVE +20% BONUS  FOR EVERY CHF INVESTED, RECEIVE 12 TOKENS INSTEAD OF 10.
ANN | Website | Medium | LinkedIn | Reddit | Twitter
EXCHANGES

As always, there are opportunities for community voting to help list Ardor / Nxt / Ignis on new crypto exchanges and even some old ones. As long as the listings are still up there are still opportunities for you to help the community by casting your vote!
CoinPulse
You can vote for NXT/ARDR/IGNIS here:
https://request.coinpulse.io/suggestions/7170/nxt-coin-decentralizing-the-future
https://request.coinpulse.io/suggestions/7171/ardor-platform-ardr
https://request.coinpulse.io/suggestions/7172/ignis-coin
Bithumb
Let your voice be heard:
https://docs.google.com/forms/d/e/1FAIpQLSdzAZF-CnfquN4MomAOzoWb_GZEUl9PZmtLQi18Cfg4sZPJXg/viewform
CryptalDash – Request for your Favorite Coin to be Listed
https://www.cryptaldash.com/request-coin-listing
CLONES
Ryō – A Decentralized Monetary System
Last week we learned about a Nxt fork/clone that will airdrop 40% of their tokens to NXT holders, which is far above the JPL requirement of 10%. Ryo is a cryptocurrency that, according to its creators, has been designed from an economic perspective to function as a stable medium of exchange and a fair store of value. To this end, Ryo proposes a decentralized and dynamic money supply which is better than conventional central banking solutions, a lofty aspiration.

They told Nxter Magazine:
This is achieved through a free money market (based on p2p loans) and by tethering money supply to credit across the system. When the economy slows, and the price of money is high, the rate at which new Ryo is introduced into circulation automatically increases and vice versa.
Ryo will be airdropping 40% of its initial supply to the Nxt community based on a snapshot taken on an a to-be-announced date (soon!). To learn more about the project, head over to ryocoin.io to read the whitepaper. Join us on telegram at https://t.me/RyoOfficial to interact with the Ryo community.
Watch this brief YouTube video explaining how the Ryo ecosystem will work:
ANN | Website | Whitepaper | Twitter | Telegram chat
XendCoin – Words from the Xendbit Team 
Confusion still exists in the Nxter community about XendCoin, a fork of Nxt that wants to become an Ardor child chain, and will have an ERC20 ICO.
In July's second Nxter Newsly, we mentioned the XendCoin Nxt fork. Last week the team came forward and posted the following words for us that we hereby pass on to our readers:
I think there are some misconceptions about Xendbit's Xendcoin. I hope the following clarifies any misunderstanding.

1. Xendcoin [is] a fork of NXT. We are using the Jelurida [Public] Licence which stipulates a 10% airdrop for existing NXT holders.

2. We hope that our fork can be a child [chain] on Ardor (this is where Ardor comes in).

3. We have done some work on our child chain, using the NXT accountInfo API to enable us perform full KYC/AML registration for our customers.

4a. The decision to use ERC20 for our ICO is purely a business one. ERC20 is the most popular platform for ICOs, we know it can be done on NXT or Ardor, but using ERC20 like I said is purely a business decision.

4b. The Xend ERC20 will be a security. As you may already know, It's just like owning shares in a company. Owners of the token will earn dividends in Xendcoin from all XendBit transactions.

5. We are also thinking many investors will also find it easier to verify our time-based lock on our token sale for founders, advisers and core team. Basically, this will assure that there is no dumping of tokens by founders once we go live. This can be done via a smart contract and the smart contract can be independently verified.

6. We are also working on a smart contract platform for our chain. We know Jelurida is also working on a smart contract and we hope that in future we can collaborate. Our smart contract platform enables each node to specify the contract they want to run as well as specify which methods in the contract they want to allow to run (i.e micro services). You can see more information about what we have done so far at https://github.com/xendbit/smartjavabeans/blob/master/README.md
XendBit's intentions are great. Banking the unbanked with crypto and an array of financial services, targeting Africans, as Africans. It still stands, though, that stating as a fact in a whitepaper before and during an ICO that Xendcoin (XND) will "run as a child chain on Ardor and serve as the gas for all transactions on the XendBit Wallet and Exchange" is NOT acceptable unless you already are deeply negotiating – or have already signed a child chain contract – with Jelurida.
The ICO will begin on July 30th. Up for sale are XTN E20 tokens, which can later be used to claim XND (Xendcoin) 1:10.
NXT holders (that hold their NXT in a private account) will receive an airdrop of XND, 10:1.
The private sale will start on the 30th of July 2018 with a combination of bonuses based on (either Fixed, Tier and/or Quantity) and will be followed by the pre-sale [which] will start on the 3rd of Sept 2018 and it will require 0.1 Ethereum minimum contribution. All bonuses structures will be decided and published before the Pre-ICO. The Pre-ICO will end by 30th of September and will be followed by the Initial Coin Offering (ICO) on the 1st of October 2018, and will end either when the target is reached or on 31st October 2018. All tokens will be distributed 2 weeks after the conclusion of the sale. Any unsold tokens will be retained by the organisation for future products and services fund raising.
Learn more:
Whitepaper | Website | and DYOR!
DEVELOPMENT
Sergei has updated his Ardor.World site with a Nxt Rich List, a NXT testnet faucet, and a SOUL (Ignis Monetary System Coin) faucet. Also, a Russian translation of The Wiremaster's great informative article "Ardor fees, child chain fees, bundlers, forgers… let's clarify" was published.
For those who do not know about why testnet faucets exist, they are the perfect tool for exploring and becoming proficient with the Nxt and Ardor blockchains – one does not learn to paint by watching YouTube videos, one learns to paint by putting paint on canvas – likewise with the latest Jelurida updates, you can learn and play with REAL FAKE testnet tokens and appreciate the finer functionality of Nxt / Ardor / Ignis.
https://twitter.com/m4kstep/status/1022788860688916480
https://twitter.com/m4kstep/status/1023587339359215616
Browser Extension to Parse Any Crypto Address on a Webpage
Really, @Patoshi should have his own weekly blog here. And a co-working space.
Here is an idea we simply need to pass along: a Chrome extension that detects crypto wallet addresses, associates them, thereby allowing for people to identify the various wallets across different blockchains associated with that owner! This is only an idea, but it is a great one that is in need of great minds and lots of dev time.
patoshi wrote:
Using a chrome extension, we can manipulate any webpage the user is on.
Goal: Create a browser extension to parse any crypto address on a webpage and display all associated addresses that is owned by the same owner.
Purpose: Merges all blockchain addresses together where a user can send Ethereum ERC20 tokens or send a private Monero payment by referencing a BTC / ARDOR address.
*
Detect BTC / ETH address on webpage
*
Extension does a lookup in the ardor account properties for that BTC / ETH address
*
Checks to see if the ardor address is the owner of that BTC / ETH address by checking to see if the signed message equals the ardor address.
*
If True, loop through the other crypto addresses associated with that Ardor address
*
Display all the other associated addresses as a pop over dialog when hovering over the BTC / ETH address
*
Clicking an address it will open a new tab that goes to a full page QR code
Elizabeth:
This could open a lot of possibilities! How would an Ardor account become the "owner" of the BTC / ETH address? Where and how is that established?
Patoshi:
Using account properties. The account owner can sign a bitcoin message of their ardor account using their btc private key. then set this as an account property….

You can verify if a BTC address is owned by that ardor account. by just using the btc public key and the signed message. Now do this with multiple coins like eth or xmr … if they all have a verified signed message.. it means that btc owner owns the eth or xmr account.
Now create a dapp that just queries the account properties in Ardor to fetch all the associated addresses. You can technically send an ERC20 or a private XMR transaction to a btc address.

Now u sell it as a BTC / ETH dapp and dont mention anything about Ardor. Let ppl eat it up and find out later what is gluing it all together.
Make real world use cases. instead of shouting about ardor all over the place. makes us folks look like crazies…
u all know its true.. dont deny… :p
thewiremaster:
We know… we know… 😉
Still have to fully understand this but sounds pretty cool! 🙂
Elizabeth:
How cool is that!! :upvote: What do we need to do to help you get this done? If you want community help – jump over to #communityprojects and let's start talking!
And this goes for everyone else too, of course. Got an idea? Join ardornxt.slack > #communityprojects. 🙂
IN THE MEDIA
Lior Yaffe at Medium – Ardor Lightweight Contracts -Status Update
August 17th, mark it on your calendars! At the Krems, Blockchain Meets Purposeful Gaming event is when Lior will debut Lightweight Contracts functionality for testnet release. Almost production ready, the devil is in the fine details and important fine details need to be finalized and implemented in the following two weeks for Jelurida to meet their goal of unveiling this long-hyped functionality.
Lior wrote:
Our current due date for the lighweight contracts testnet release is August 17th just in time for the Blockchain Meets Purposeful Gaming Hackathon & Conference in Krems Austria, where we intend to make extensive use of these contracts. This release will be packed with additional goodies as well, but more on this in a separate article once we get closer to the release.

…

​The solution we devised is to implement a new "Contract Setup" transaction type (name not final), which combines an account property with a reference to the contract code, still stored as cloud data, as part of the transaction attachment. This way using the contract name alone we can load the reference to the contract code and solve the problem without having to load the referencing transaction itself.
Howtotoken – Ardor Vs Ethereum – Asset Management Pros and Cons
This well-researched article, more of a wiki, does a fair job of comparing Ardor and Ethereum. What is correctly highlighted is the almost infinitely easier ability for Ardor users to manage and issue assets as well as write secure and reliable conditioned "Smart Contracts."
Contents
They wrote:
Conclusion
To sum everything up, there are serious reasons to believe that Ethereum could lose its dominance in the asset management niche in face of Ardor. The heir to NXT looks much more confident for many reasons, such as scalability. Parent-child chain system looks great when it comes to developing a blockchain platform with a limited set of functions, for example, a platform for asset management. However, the Ethereum system has already passed the test of time, and has serious potential to solve its problems. This creates a challenge for Ardor, which must implement its technological features at the level needed to stay one step ahead.
Cryptobriefing – What Is ARDR? Introduction to Ardor Platform
Written from the point of view of a business professional, this article does offer a good explanation of what Ardor is and does. The claim in the subheader is laughable because comparing Microsoft's Azure BaaS solution to Ardor is like comparing apples to China. Yes, both do exist but Microsoft's so-called BaaS "solution" is a dumbed down product that you can get better versions of, for free, elsewhere. To claim that Microsoft is a blockchain player is laughably naive. Go Ardor!
The author wrote:
Ardor is the next generation of blockchain 3.0 and a strong contender for enterprise partnerships, development, and implementation. The company behind it has a strong blockchain background that will support a cloud-based Blockchain-as-a-Service ecosystem including several key features.
These 2013 era #pos solutions i.e. $nxt are working in production for 5 years unlike your #Ethereum Casper vaporware.

— Lior Yaffe (@lioryaffe) July 26, 2018
Cointelegraph – Top 10 Crypto Deals in 2017 Returned Over 136,000% on Average, Report Shows
There are lies, damned lies, and statistics according to famed American writer and satirist Mark Twain. To claim that NXT was the second highest performing "deal" in 2017 is true only on paper because those returns evaporated the second 2018 began after the IGNIS Airdrop. Looking at a graph only tells part of the story. Initial NXT investors did well, sure, but no need to overdo the hype. Same goes for the rest of the coins.
Investors in the project's ( $ARDR & $IGNIS) native $NXT token saw returns of over 500,000 percent.https://t.co/JXZaWatVeL#blockchain #crypto #Nxt #Ardor #ROI #iota #ethereum pic.twitter.com/YpNvuQn2GF

— Sazan (@AvdiuSazan) July 28, 2018
The author wrote:
In second place is Nxt, a blockchain-powered, decentralized ecosystem that focuses on crowdfunding, governance, cloud services and digital asset exchange. Investors in the project's native NXT token saw returns of over 500,000 percent.
Captain Altcoin – Why is Ardor (ARDR) Not Talked About in the Crypto Community?
A question for the philosophers. Probably equal parts disillusionment after price adjustment post-IGNIS Airdrop, part space alien conspiracy regarding crypto-Jews, and anything else you can possibly dream up. It did not help that the exchanges that promised ARDR / IGNIS trading tended to take a looooooooooonnnnnng time to get their act together. This article is light on information but does mention the Dominium ITO.
The author wrote:
The project is based on the NXT infrastructure and allows companies to build their own blockchain products on the Ardor platform, with Ardor functioning as the parent chain. The Ardor Platform uses the Proof-of-Stake consensus algorithm which eliminates mining competition; therefore nodes can use low energy and economical hardware. This enables the platform to be powered by solar energy-based power sources. Some of the key features of the platform include:

Child chains
Security
Scalability
Lightweight contracts that don't require the entire network to run
Data cloud which reduces blockchain bloat for individual nodes
Dead man's switches on child chains
Built in blockchain voting and messaging
Built-in coin marketplace
CoinShuffle features
PRICE EVOLUTION
Weekly NXT/ARDR/IGNIS Price Evolution
The following graphic shows the NXT / Bitcoin exchange price at Bittrex over this past week:
The following graphic shows the ARDR / Bitcoin exchange price at Bittrex over this past week:
The following graphic shows the IGNIS / Bitcoin exchange price at Bittrex over this past week:
And that is the news of last week! We are happy you found your way here this week, and hopefully next week as well.
Help Nxter.org continue to provide focused coverage and grow by rewarding us for our efforts. Donate to MEKH, our loving patron: NXT-TK9J-MEKH-MUP9-HFCH2 / ARDOR-TK9J-MEKH-MUP9-HFCH2. Thanks.
Want to follow us on Twitter or Telegram for important breaking updates during the week as they happen – please do. We hope to see you back here next week. Keep walking forward towards the future and all that it brings.